Luxury hotels in Southeast Asia target foreign visitors to Japan, entering Thailand's financial conglomerates.
Original Article from the Nikkei Newspaper
https://www.nikkei.com/article/DGXZQOGS158JK0V10C23A6000000/
Southeast Asian luxury hotels will enter the Japanese market one after another. Central Group, a Thai conglomerate, will open a hotel in Osaka in July, and Singapore's Capella Hotel Group will enter Kyoto in 2025. The removal of travel restrictions in the wake of the coronavirus outbreak and the yen's depreciation will provide a tailwind for capturing robust demand for travel to Japan.
Namba, Osaka is a popular downtown area for foreign visitors to Japan. Centara Grand Hotel Osaka" will hold their Grand Opening on July 1st. A joint venture of Centara Hotels & Resorts, a hotel business company of Central Japan, Taisei Corporation, and Kanden Real Estate Development, invested about 8 billion baht (about 32 billion yen) to build the 33-story, 515-room hotel.
At the preview held on June 28, rooms and restaurants inspired by Thai and Japanese cultures were unveiled. The hotel has eight restaurants, including a rooftop restaurant that allows guests to eat and drink on an outdoor terrace, a popular feature in Thailand. Thai staff will also work at the front desk.
About the Hotel
Room sizes range from 27 to 56 square meters, and the average price per room is set at 35,000 yen. The hotel expects that 70% of its guests will be foreign visitors to Japan, and that room reservations for July and August are at 50% occupancy. At the press conference, general manager Shigeki Nakagawa said, "We would like to increase Centara's recognition in preparation for the international exposition (Osaka-Kansai Expo) in 2013.
Centara has 90 hotels in major cities in Thailand, as well as Qatar and Vietnam. Osaka is its first foray into East Asia. Japan, with its sophisticated food and culture, is popular among people in Southeast Asia, including Thailand," said CEO Thilayut Chirathiwat.
Other Expansions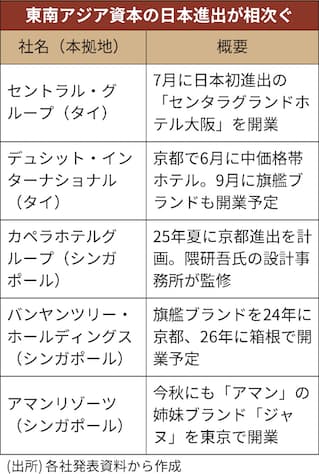 In June, Dusit International, a long-established hotel chain in Thailand, opened its first Japanese property in Kyoto, the ASAI Kyoto Shijo. In September, Dusit Thani plans to open another luxury hotel under its flagship brand, Dusit Thani, near JR Kyoto Station.
Dusit operates more than 300 hotels and resorts in 14 countries. The Kyoto hotel will offer Thai cuisine and spa services, and will also play a role in attracting guests to other hotels in Thailand and other countries. Ms. Viena, an Australian who stayed at Asai Kyoto Shijo, said, "Thai food is very popular in Australia as well.
One of the reasons for the successive expansion into Japan is the increase in the number of visitors to Japan from Southeast Asia. From January to May 2011, 1.46 million foreigners from six major Southeast Asian countries, including Thailand and Singapore, visited Japan. By country/region, they accounted for 17% of the total, second only to South Korea (30%). The removal of travel restrictions and the weak yen have made travel easier.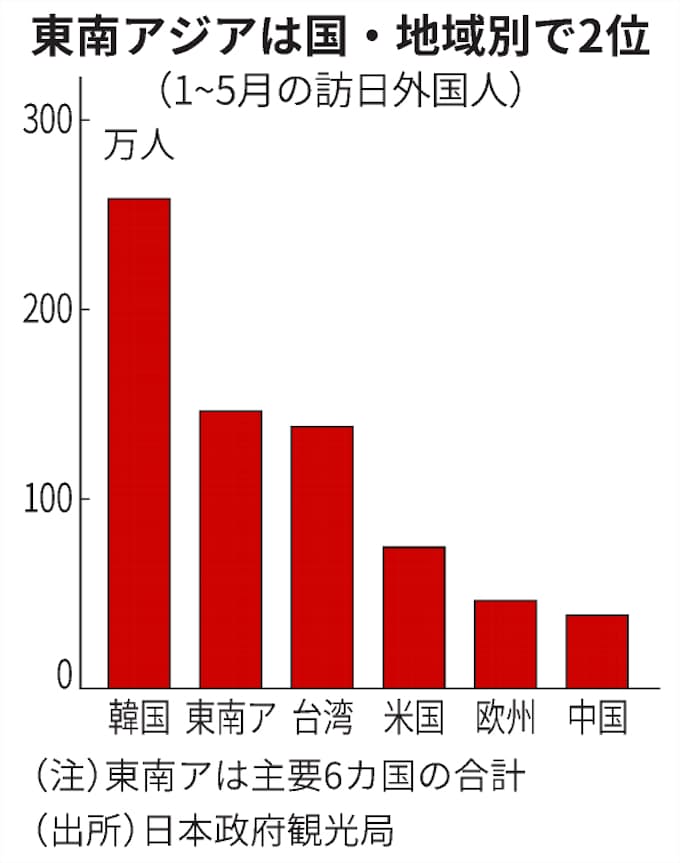 Consumption is also expected to increase due to rising incomes. Statista, a German research firm, forecasts that Southeast Asians will spend $513 (74,000 yen) per person per year on hotel stays in 2028, a 60% increase from 2022.
Kenichi Shimomura, head of the Asia Japan Desk at Roland Berger Strategy Consultants, points out that "Japan is geographically closer to Southeast Asian hotel brands, making it easier for them to expand their business there than in Europe and the United States."
The strategy is to attract visitors to Japan from Europe, the U.S., and China while sending guests from Southeast Asia, where they have a strong foothold. Taking advantage of the popularity of travel to Japan, there has been a noticeable trend among luxury resort hotels to plan facilities targeting wealthy travelers.
Singapore's Capella will open its first Japanese hotel in Kyoto in the summer of 2025. The company will participate in a redevelopment project being promoted by NTT Urban Development in Miyagawa-cho, a town known for its flower district. The hotel construction will be supervised by the design office of renowned architect Kengo Kuma.
Capella has been developing luxury resorts mainly in Asia. Its flagship hotel on Singapore's Sentosa Island was the site of the U.S.-North Korea summit in 2018. It is an ultra-luxury hotel where even the cheapest room costs about 100,000 yen per night.
Banyan Tree Holdings also plans to open flagship hotels in Kyoto and Hakone. Roland's Shimomura says, "There is a trend toward resorts for wealthy foreigners in various parts of Japan that are too expensive for Japanese to afford.
Competition is fierce, as Japanese and Western luxury hotels are also planning to open new hotels. Seibu Prince Hotels Worldwide will open the Grand Prince Hotel Osaka Bay, a luxury brand, in Osaka City on July 1. The U.S.-based Hilton also plans to open the Waldorf Astoria Osaka, its highest brand, on the north side of JR Osaka Station in 2025.
The Osaka Convention & Visitors Bureau expects the number of visitors to Japan to return to the pre-pandemic levels this summer, and an official in charge of tourism in the area points out that there will be a shortage of hotels in the near future. The Kansai region has fewer hotels for the wealthy than the Tokyo metropolitan area, and hotel development has been active in the region.
The Western hotels that are expanding globally are well known, and they are ahead in terms of a point system that can be used in various areas and the sharing of customer information. In order for Southeast Asian hotels to compete, they will need to make steady efforts, such as utilizing points of contact with customers in their own countries.
For additional information or any questions please contact us here
Email: info@remax-apex.com