Advertisement development based on a result of a survey that 70% of the respondents collect information through social media.
If we don't understand something, they look it up in a technical book or dictionary.
The number of such people has decreased to an extremely low level, and as the term "Googling" has become widely recognized, Internet searches have become overwhelmingly common.
And it is now common to use smartphones instead of PCs for easy searches.
As the author writes this column, he uses book versions of Kojien and Hanrei-Rokuho to look up vocabulary and legal texts, but these authoritative books are also widely available in electronic versions, so you can choose the one you prefer.
The publishing industry is no longer as vigorous as it once was because of the convenience and ease of use, and the trend toward electronic publishing is becoming more and more pronounced.
"Generation Z" refers to the generation following "Generation Y (Millennial Generation)" born from around 1980 to the mid-1990s. Gen Z are generally refers to those who were born in the the 1990s and are under the age of 28.
This generation is also referred to as the "digital native generation," and is said to have a high tendency to use the Internet as a matter of course since their pre- and post-compulsory education years.
Since the age of adulthood has been lowered to 18 years old, rental contracts as well as sales contracts are already available for this age group up to 10 years older than 18 years old, so they have already become the target of advertisement.
In addition, after another 10 years, they will reach the age of 38, which is the main age group for purchasing a house, so it is necessary to know their age orientation in order to be prepared for the future.
What we need to know is what kind of media Generation Z uses to select an apartment. House.com Inc., a company which pursues lifestyle design through synergy with real estate, has conducted a survey titled "Survey on Apartment Selection in 2023" and published the results.
Using the results of the survey as a sample, and referring to other surveys, we will examine the opportunities for Gen Z, who will become major customers in the future, how they approach real estate agents, consider what we should do to get a response, and consider what methods we as real estate agents should adopt in the future.
DX Implementation Fails because there is No Internal Consensus
Have you ever heard the expression "disruptive technology that will change the world"?
This term was used by the Consumer Affairs Agency in its December 17, 2019 report, "Digital Consumer Issues and Challenges," and refers to the 12 digital technologies predicted by McKinsey & Company, the world's leading consulting firm, in 2013.
This may be interpreted as "disruptive innovation," or innovation which brings new standards of value to the market while diminishing the value demanded by the existing market.
In fact, with the development of 5G and IT, business transactions in the digital age continue to develop beyond expectations, with electronic contracts becoming more prevalent than ever before, even though printed documents were the norm in 2013.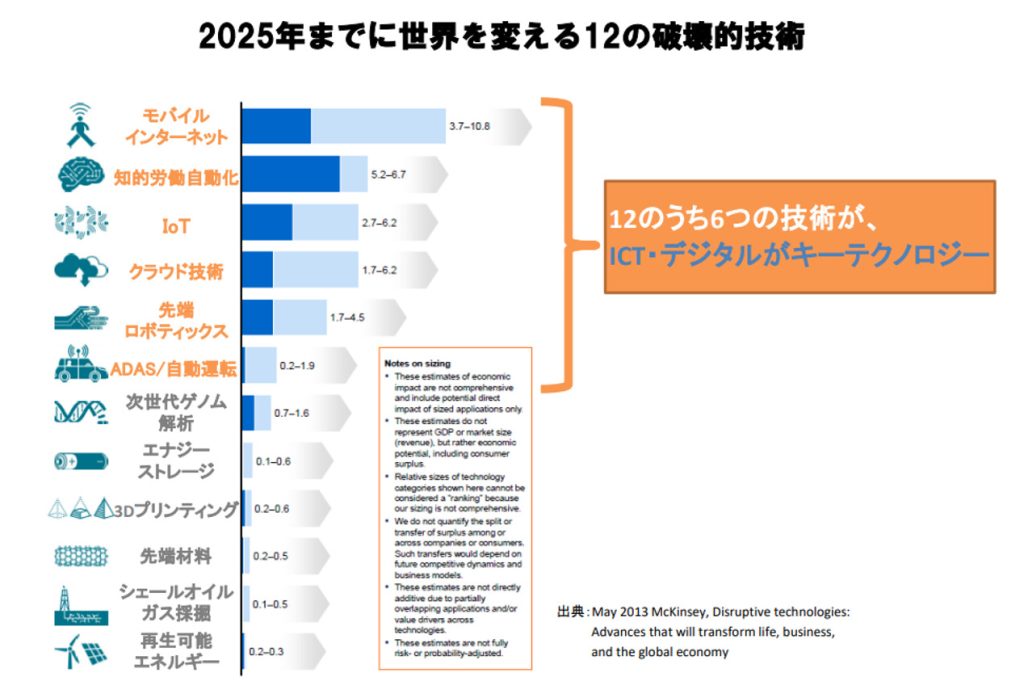 Disparities in access to information and purchases are being eliminated, and even if there is no physical store near you, you can now purchase from businesses around the world through Amazon and other means.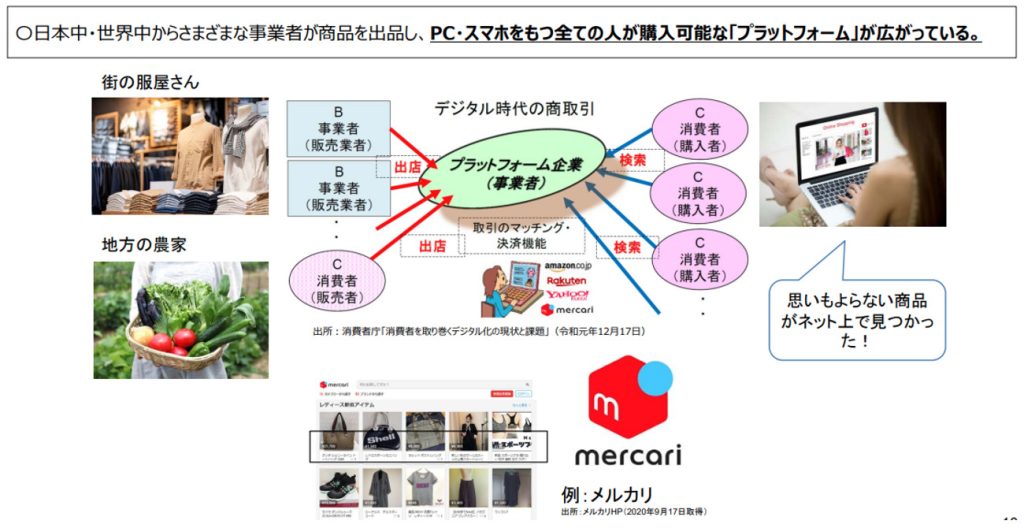 The real estate industry, which is not known for its IT skills, is not sitting idly. Countries which are promoting the integration of real estate and DX at the national level are accelerating this trend.
Singapore, for example, is promoting the construction of a "Virtual Singapore," a platform that converts the entire country into 3D, which is being utilized in a wide range of fields, including the environment, disaster prevention, infrastructure, and management.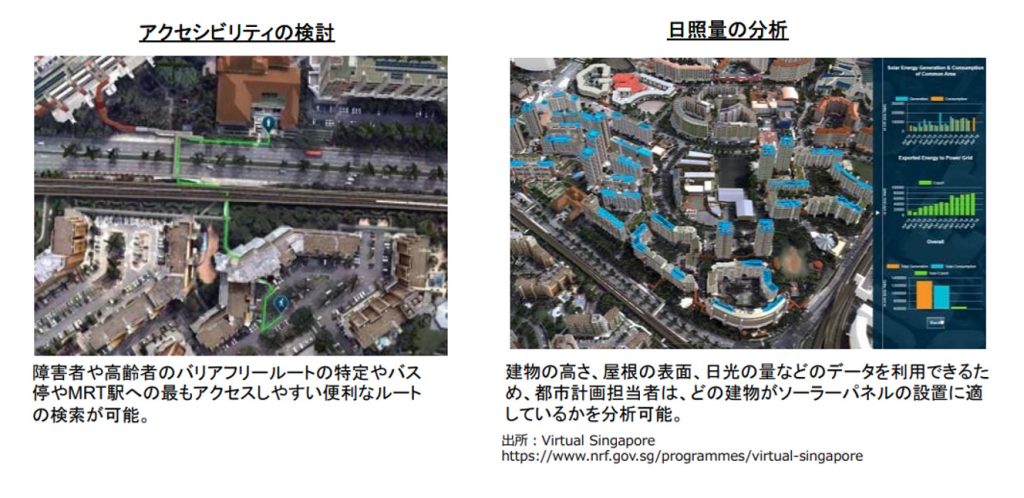 In contrast to these countries that are making advanced efforts, Japan, which is often thought to be technologically advanced, is considered to be lagging behind the rest of the world.
For example, Japan is below average in the OECD (Organization for Economic Cooperation and Development) survey on digitalization in the workplace, which includes 38 member countries (mainly European countries), and also includes Japan and the United States.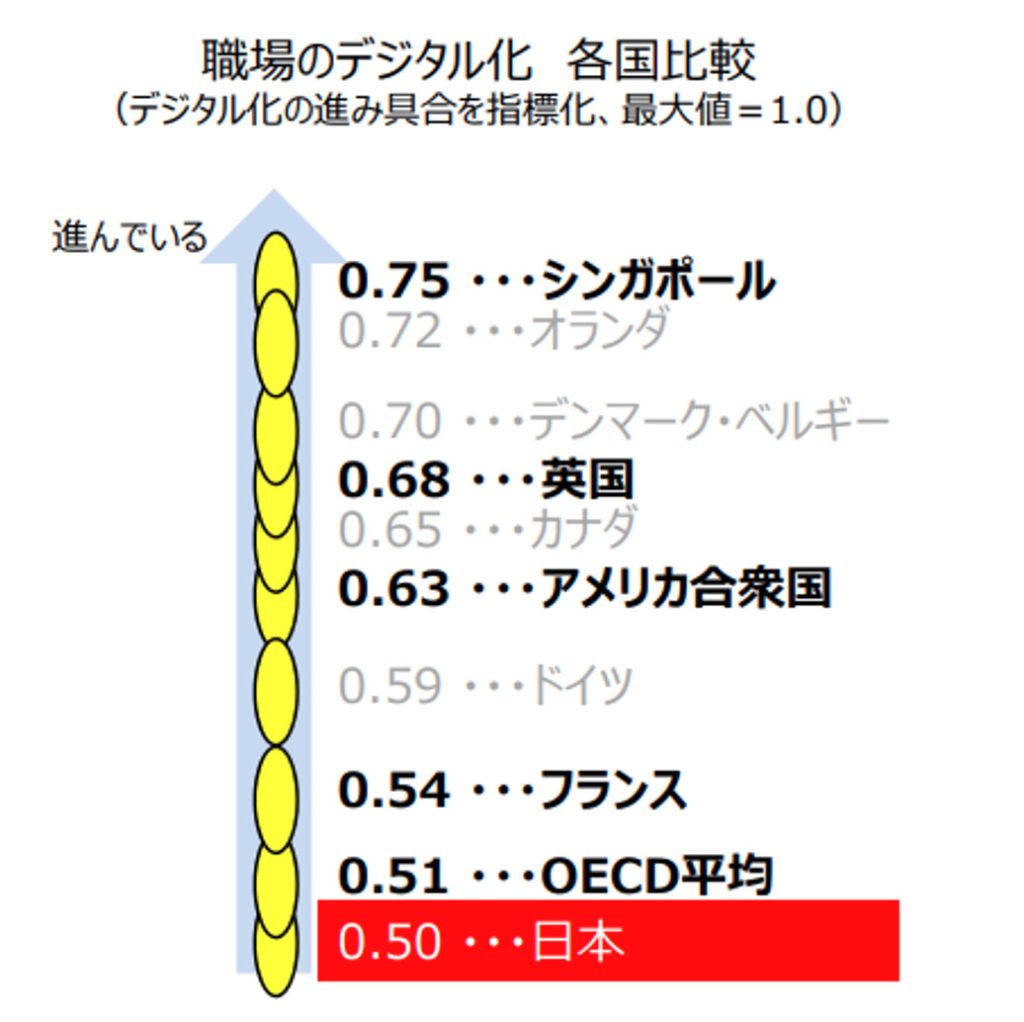 The "World Digital Government Ranking 2022" by the Institute of Digital Government and Local Government Research, Waseda University, which ranks how much the government is "focusing" on and achieving results in the digitization of the public's viewpoints. A measure of a digitally advanced country shows Japan is only in 10th place (9th place in the previous year).
One of the reasons for the low ranking is the deep-rooted resistance to digitization and DX implementation.
Various advance preparations are required for companies to promote digitalization, including a lack of technical understanding, organizational approaches, and ensuring human resources development, and failure to do so can lead to open opposition and criticism.
Even if the system is introduced, internal cooperation will not be forthcoming.
There is no way customers will use such a system.
When we introduce digitization and DX, it is important to pay maximum attention to information transparency and security measures in order to gain trust within the company and from customers.
The delay in raising such awareness may be the reason for the delay in implementation, even though the technology has reached a sufficient level.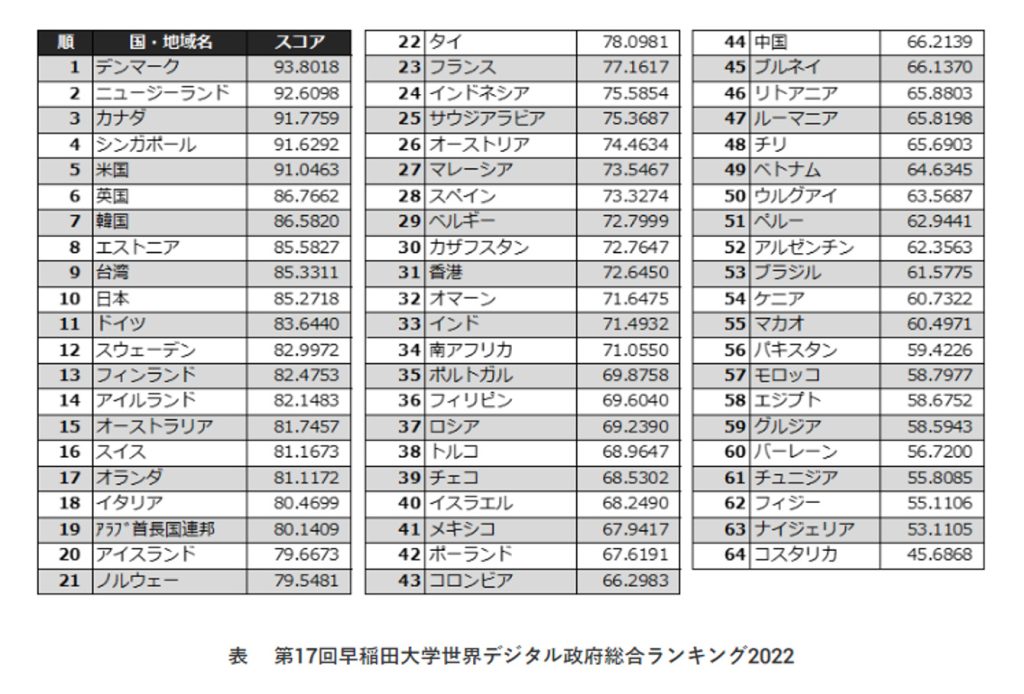 That can't be true. If we look only at the usage rate of mobile terminals, it is true that the ownership rate is close to 100%.
However, this is not necessarily the case when we consider advanced platforms and applications are offered and that customers are actually willing to accept and use them.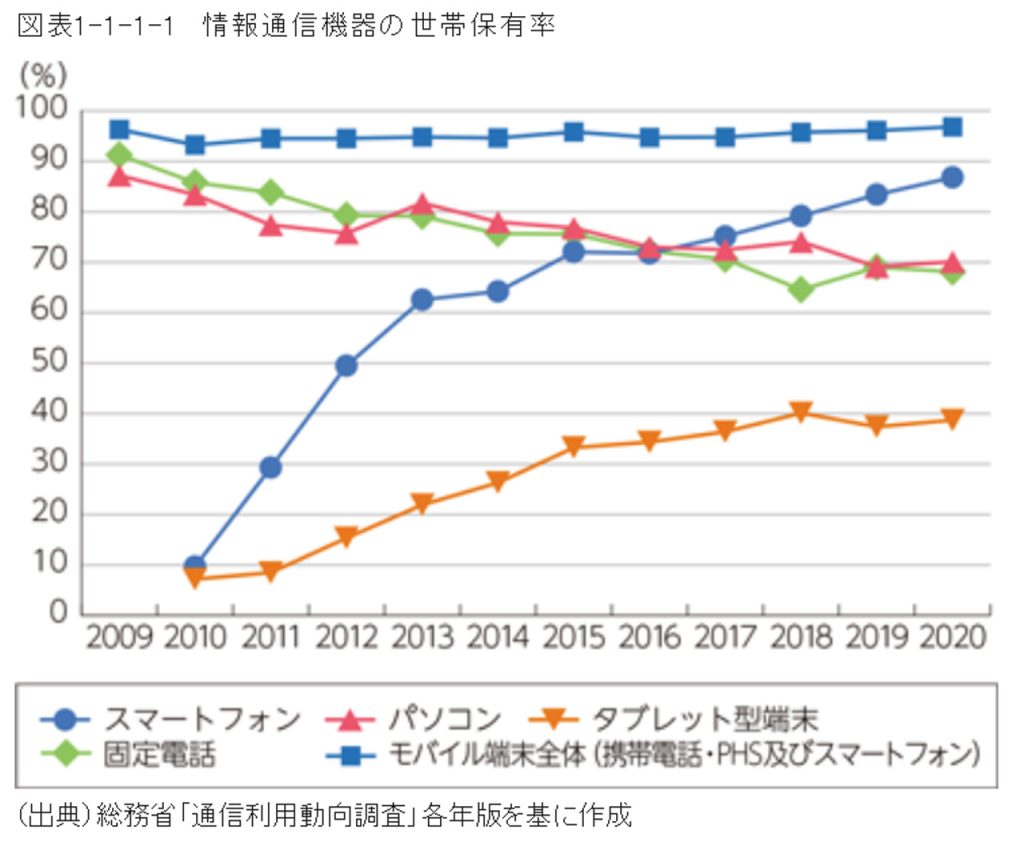 From the author's personal viewpoint, Japan is not lagging behind other countries in terms of technology alone.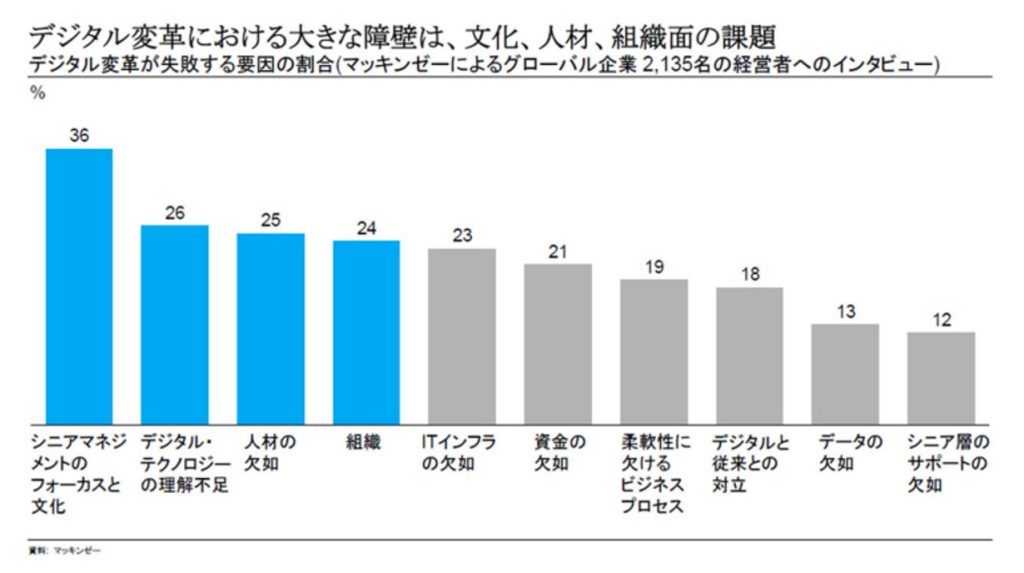 However, there is still room for improvement in terms of lack of understanding of digital technology, organizational approaches, and human resource development and retention.
It is an open fact that the real estate industry has a high affinity with DX, but many people are skeptical when we explain the necessity of DX and the improvement in operational efficiency.
However, this is not just the case in the real estate industry.
This is because many managers believe the corporate culture, human resources, and organizational aspects are barriers to DX implementation, regardless of the industry.
However, while companies are hesitant to introduce real estate DX, Generation Z, which will be the core customer base in the near future, is changing, so efforts must continue.
YouTube is Used to Gather Information
Subjectively, we have the impression that real estate DX is more advanced for rentals than for sales.
In reality, however, custom-built homebuilders are the most advanced and most used.
As reported in the "Housing Market Trend Survey" by the Ministry of Land, Infrastructure, Transport and Tourism, the "Meta Housing Exhibition Hall," which gathers actual model houses across the country in one virtual space, has been in service since August 2022, and a system that enables VR previews of model houses in unique housing exhibition halls is being developed. The degree of introduction can be seen in the development of a system which allows visitors to preview model houses in their own housing exhibition halls using VR.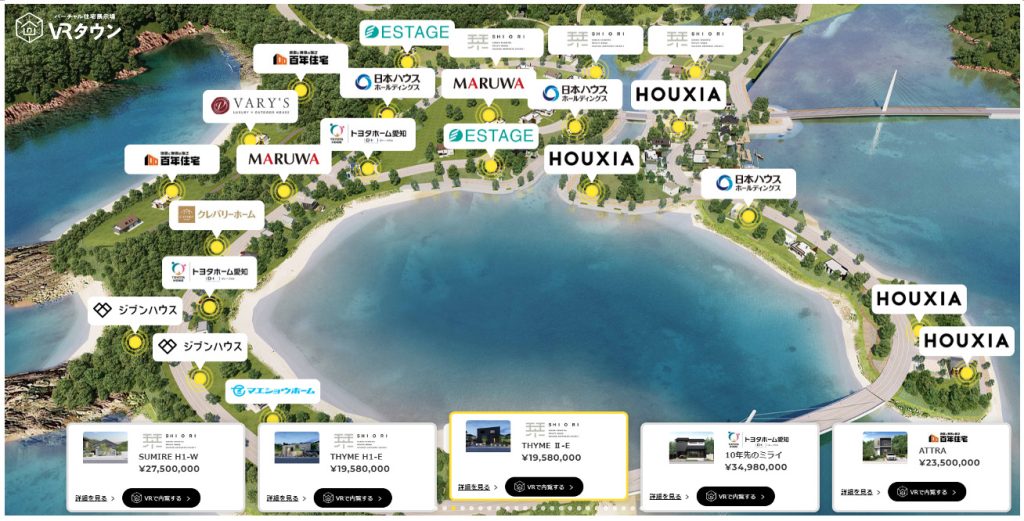 The "Real Estate DX Promotion Status Survey" was conducted jointly by four real estate tech companies and two media companies, and the results were released on August 2, 2022. The results were released on August 2, 2022. 98.4% of respondents answered "Yes" to the question, "Do you think real estate DX should be introduced?"
The most popular item being considered is the "electronic contracting system," followed by IT instruction manuals and electronic applications.
This is a no-brainer result, since improving operational efficiency is one of the reasons for implementing DX, but other reasons include improving customer service, strengthening marketing, using data analysis and forecasting, and gaining a competitive edge.
It is up to each company to decide how to implement DX, but if the emphasis is on improving customer service, it is necessary to focus on the dynamics of Generation Z, thos who have a high ability to transmit information.
The Internet has become the main source of information on real estate for all ages, and it has been confirmed that Generation Z is using social networking services to search for information, not limited to real estate.
Moreover, the overwhelming majority of respondents use YouTube, Instagram, and other applications which allow them to get a general overview without having to read long form text.
As might be expected for real estate, the amount of information available on YouTube is sometimes insufficient, so it is used in conjunction with websites, but it is definitely a good starting point.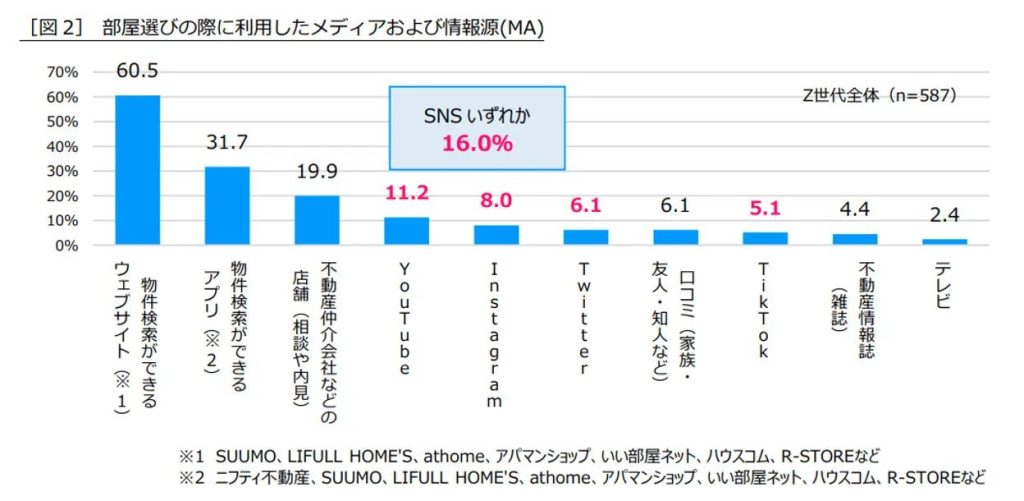 As this tendency suggests, Generation Z tends to seek to know approximate information more efficiently.
This may be because they have more opportunities to come into contact with people who have superficially diverse values, and this may be the reason for their high sensitivity to diversity.
On the other hand, it is not clear whether this has an immediate impact on personal values, and there is also a tendency to be concerned about what others think of them.
It can be said that they have a flexible nature that can respond to values and diversity.
In this sense, Generation Z will be at the center of trend transmission in the future, and at the same time, will be at the center of consumption, therefore it is necessary to pay attention.
Dissatisfaction Generation Z Feels with Portal Sites
In order to consider an effective approach, it will be necessary to understand the services Generation Z uses and the frustrations they have with the services they actually use. Also to provide services which compensate for these frustrations.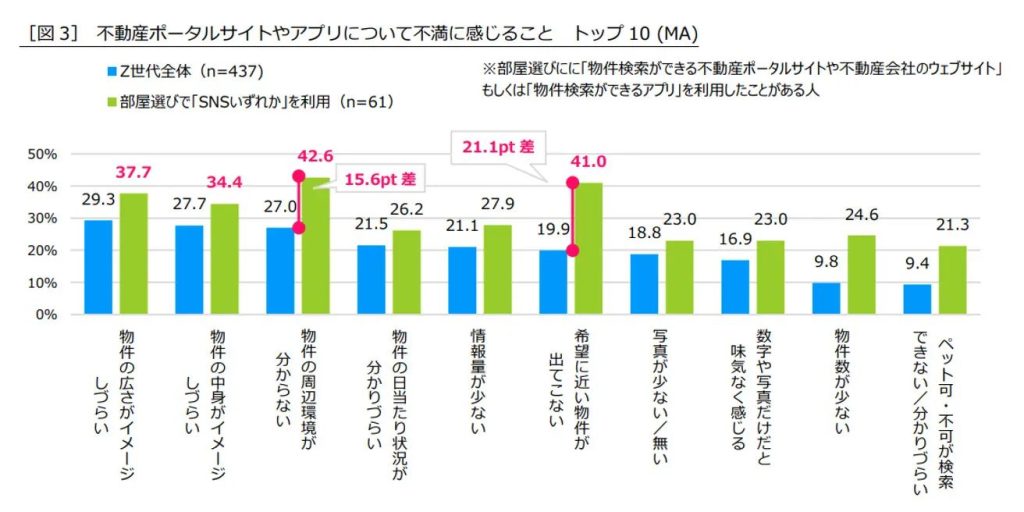 According to the results of a survey of users of real estate portal sites and applications, the top complaint was "not knowing the surrounding environment of the property," followed by "not being able to find a property close to what I want" and "having a hard time visualizing the size of the property."
YouTube videos are preferred because they make it easy to visualize the size and layout of the room.
If you want to make your videos more effective, it would be better to provide a video which conveys the distance from the station to the property, and an image of the neighborhood and environment.
Although creating a video requires a certain amount of effort, the more effective the information is, the more likely it is you will get a return on your investment by increasing the number of "subscribers" and repeat visitors.
After viewing the video, the viewers take concrete actions such as consulting with a real estate agent, or even if they do not consult with a real estate agent, they become interested in the area and search for information on portal sites, etc.
By providing more content-intensive information via video, we will be able to steadily increase the effectiveness of our efforts.
Points to Consider when Creating an Introductory Video
As mentioned above, video advertisements are favorably received by Generation Z in particular, as they can easily visualize the contents of the property and the size of the property.
In addition, a common tendency among those who take action after viewing a video is that they are "very particular about the property."
The average rent is 7,450 yen higher for those who chose a room after watching the video.
The survey was conducted mainly on the selection of units for rent, but the same "tastes" may be carried over to when people reach the appropriate age to purchase a property.
In order to prepare for such an age, it would be a good idea to start publishing videos of properties for sale at an earlier stage.
When actually creating the video, considerations include the distance from the station to the property, the condition of the kitchen, toilet, bathroom, and other features in particular detail, and the view from the living room and the sunlight in each room should be incorporated.
As a precaution when shooting videos, we have seen some video advertisements use terms such as "outstanding," "buy," and "special," which as a rule should not be used.
Hyperbole is not permitted even if it is verbal or in a ticker tape.
Be sure to comply with the "Fair Competition Code Concerning Advertisements for Sale and Lease of Real Estate."
Rather than emphasizing only the positives of the property, it is necessary to provide correct information on necessary display items by using a ticker or other means.
In addition, do not leave out information about properties which have already been sold, but take care not to mislead by deleting the video or designating the property as "SOLD OUT".
Summary
When the original author first entered the real estate industry, newspaper advertisements and postings were in full swing.
The Internet had not yet spread to the general public, and cell phones were in their early days using analog radio waves, which were expensive, and ownership was limited to a few professions.
Then technological innovations progressed, and cell phones became multi-functional terminals, smart phones were in full swing, and most information was available at your fingertips.
News is delivered in real time, and the number of people who do not read newspapers has increased.
If subscription rates decline, the effectiveness of newspaper advertisements cannot be expected, so it is inevitable that portal sites will become the mainstream for real estate advertisements.
If property photos, drawings, and basic information are input into the system, anyone can easily transmit property information on the Internet.
Although simplicity is the charm of Internet advertising, if you don't add a little effort, you will be buried under the many properties available.
If you are going to spend the same amount of effort, you want to develop an advertisement which will produce better results.
To this end, it is important to understand the information and complaints of each age group, and to make advertisements which will be chosen by them the consumers.
For additional information or any questions please contact us here
Email: info@remax-apex.com