"Properties in Kyoto are inexpensive." This is often said by those living in Tokyo. The price per tsubo (3.5 square meters) of newly built condominiums for sale in prime areas in the center of Kyoto City, such as the so-called "Tanoza" and "Gosho Minami" areas, is over 5 million yen, with prices hovering above that level. While the average Kyoto resident's perception is "it's insanely expensive" and "I can't afford it," those who know the market in Tokyo seem to feel that they can buy new, in a prime location for about the price of a used condominium at a major train station (in Tokyo).
Are new condominiums in Kyoto really expensive or cheap? This depends on your point of view.
For those who say, "Kyoto is better than Tokyo" or "I want to live in Kyoto," real estate in Kyoto is by far cheaper. Let's take a look at the pricing information provided from LIFULL HOMES as a reference.
The average price of a used condominium with an exclusive area of 70 square meters is 31.91 million yen in Kamigyo-ku, 34.29 million yen in Nakagyo-ku, and 39.22 million yen in Shimogyo-ku in the central part of Kyoto City. The highest price is 39.53 million yen in Higashiyama-ku, famous for Yasaka Shrine and Kiyomizu Temple. Even the most expensive areas are under 40 million yen. In Tokyo's 23 wards, the central area is priced around 100 million yen, with Chiyoda-ku at 110.6 million yen, Minato-ku at 95.89 million yen, and Chuo-ku at 82.02 million yen. The lowest price points of 34.97 million yen in Adachi-ku and 37.6 million yen in Katsushika-ku.
The same is true in Osaka City. Kita-ku at 39.57 million yen and Chuo-ku at 39.04 million yen.
Looking at the average market prices Central Kyoto City < Central Osaka City < Adachi and Katsushika wards.
Thus it is not technically wrong to say that Kyoto is inexpensive.

On the other hand as an investment property, it is not cheap.
The market rent for a 3LDK apartment in Kyoto City is 203,900 yen in Nakagyo-ku, the most expensive ward. Kamigyo-ku and Shimogyo-ku are 169,900 yen and 162,100 yen, respectively. Compared to 500,000 yen in Chiyoda-ku, 469,400 yen in Minato-ku, and 349,800 yen in Chuo-ku, Kyoto is by far the cheaper, about one-half to one-third. About the same in difference comparing the second hand or existing condominium market. Considering the same degree of difference as the used condominium price, i.e., the rental yield, the used condominium price may not in fact be "cheap." Looking at the average rent in Katsushika-ku (233,700 yen), one could say the existing condominium prices in Kyoto are "high" from a rental market perspective.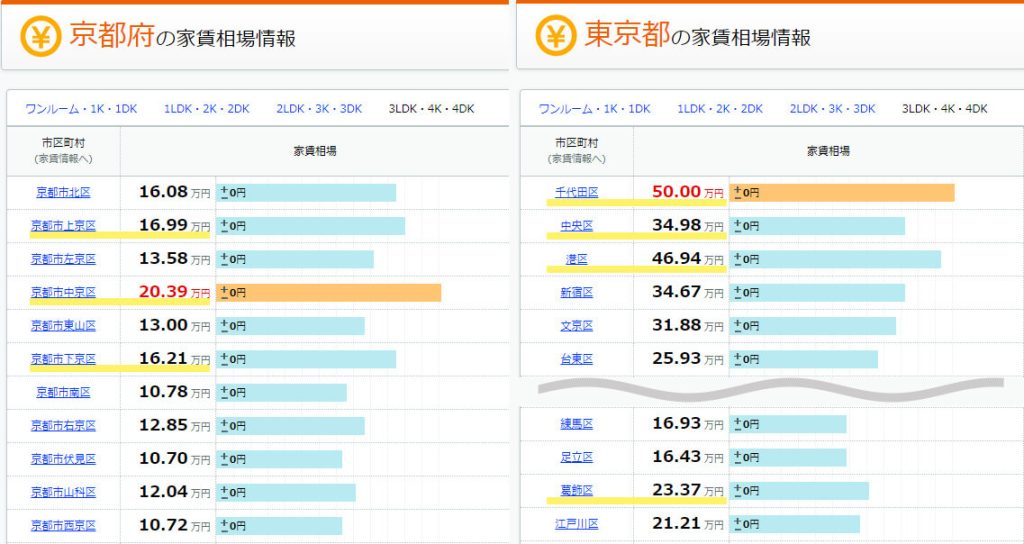 The above is based on averages that do not take into account the location, rating of the location, age of the building, building grade, etc., and is not statistically correct.
It is not a reasonable judgment to say "properties in Kyoto are generally suitable for investment because they are cheaper than properties in Tokyo." You should choose carefully considering the individual conditions of each property, do not jump in just because it is inexpensive.
However, for those who want to live in Kyoto, the market price in Kyoto should may seem like "heaven." Even if your budget will only allow you to buy an older condominium in central Tokyo, you can buy a new condominium in Kyoto City.
The current market price, for those living in the Tokyo metropolitan area who love Kyoto, rather than buying as an investment property, but may be worth considering as a second home or a place to settle down in the future.
For additional information or any questions please contact us here
Email: info@remax-apex.com