We have talked a good bit about this in previous Blog posts, but one thing that is inevitably important in "the discussion of what type of facility to choose" is to talk about long-term care certification.
Please refer to the previous Blog post for a more detailed explanation of long-term care certification.
If you need long-term care 3 or above, you can enter any facility, but if you are determined to need assistance or to be independent, your options are limited.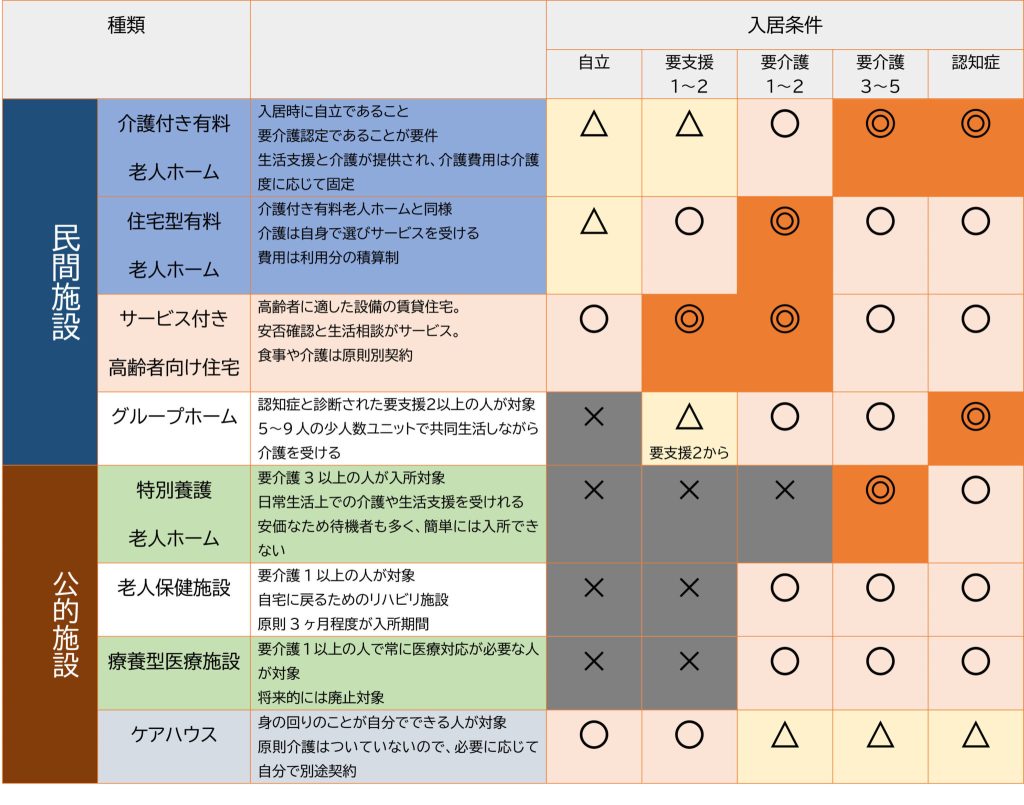 If you don't need nursing care or support, you don't need to be in a facility in the first place. This is the mind set of many. In fact, there have been many cases of elderly couples moving into one of the high rise condominiums in central Tokyo over the past few years. In a single family home or a detached house, it is difficult to go up and down stairs. Cleaning also becomes more difficult, more of a chore.
They are moving to a condominium in the city center because of the distance to transportation facilities such as train stations, or because it is difficult to go shopping by car. The trend is for convenience.
In high rise condominiums, there are concierge services and security guards who patrol the area at night to ensure security.
Even if the need of nursing care progresses and you end up in a facility, it is now easier to capitalize on the assets. For these reasons, high rise condominiums are now being chosen as retirement residences.
If you happened to watch the news in the lsat few months there has been a widespread in burglary. The targets are elderly individuals or couples living alone in their single family or detached homes.
The cost of barrier-free construction of homes to receive care in house or external care will be substantial. Hiring outside help to maintain and clean the yard is not only costly, but can also a security concern.
With that in mind, moving to a high rise condominium may be the logical move. If you are healthy forever, it may not be an exaggeration to say that this option may the best one. But you can't stay healthy forever, can you?
However, most people believe they are still too healthy to enter a nursing institution.
Some nursing homes are upscale, and some facilities look comfortable. But there is a hesitation to enter when most think of it as a place where once they enter, they cannot come out and spend the rest of their lives.
I am not sure if I would be able to live comfortably in a serviced home for the elderly, where I can receive nursing care services and can move out at any time since it is a rental residence.
If it were like staying in a luxury resort apartment, with excellent meals and a comfortable living space, I might be satisfied even if I had to pay several hundred thousand yen every month. Although, I can't imagine myself in such a living space.
I would prefer having the freedom to leave at my own will, enjoy the hobbies which I may have, enjoy different foods in which I enjoy. This seems more so of a richer retirement life.
If you have been a successful person in your life, I would assume you would feel even stronger about holding on the any and all independence as long as possible.
I was thinking about this and what kind of housing would be suitable for the elderly, and I found this condominium complex.
This is a condominium complex for seniors [Sanmit Dainichi].
This property is adjacent to AEON MALL Dainichi, located in front of "Dainichi" station on the Osaka Metro Tanimachi Line. AEON MALL Dainichi is a commercial facility that has not only specialty stores such as food and apparel stores, but also includes a movie theater.
From the outside, it looks nothing like an ordinary condominium for sale, and there are high-rise condominiums standing on each side.
The units are comparable to condominiums found for sale with the general public such as the types of facilities found in each unit and being barrier free.
The biggest differences can and will be found in the common and or the shared space within the building. Granted there will be a few fixtures found in these condominiums for those enjoying retirement which won't be found in the general units for the public.
Common Facilities in the Condominium
The focus will be on community living, a retirement community for those who are retired but still active. The concept of these condominiums is to combine a residential living environment with features and facilities which may be found in a nursing home.
Some features may include;
A bath house (Onsen)
Karaoke and Theater room
Recreational Rooms such as ping pong shogi, etc.
Restaurant for the owners including private dining spaces
Guest Rooms (can be found in some general condominiums)
Medical Support Facilities
Having the freedom to live in your own residence and having medical support facilities on site has to be the most convenient and important aspect of why more and more retired individuals an couples may choose this type of living arrangement.
Another reason can be, since it is not a rental home, the asset can be sold when the time comes. Some use the proceeds from the sale as the administrative and admissions costs to enter a nursing home.
There may not be many people who know of these types of living arrangements for the retired. Abroad, we hear about retirement living communities, age 55+ communities, but in Japan this is still a novel concept. Interesting to think this is still a novel concept even though the Japanese population is aging.
Granted there has been these living arrangements as rental apartments, paying a monthly rent and medical care fees per month.
We do believe having a wide range of choices moving forward is a benefit to society. When initially buying or renting your first home or apartment, your second or third experience, we tend to find a space to live which fits our lifestyles. Now we can extend this choice even into retirement and beyond.
Our next blog regarding this theme, "Retirement Housing, What is the Correct Answer?" we will post volume 3 which will again focus on Nursing Care Insurance.
For additional information or any questions please contact us here
Email: info@remax-apex.com