The Consumer Contract Act was enacted on April 1, 2001 to protect the interests of consumers in light of the disparity in the amount, quality of information, and bargaining power which exists between consumers and businesses when contracting.
The revised Consumer Contract Act enacted last May (2022) came into effect on June 1, 2023.
Although there are many people whom think there isn't a problem with real estate contracts as long as the Building Lots and Buildings Transaction Business Law is observed. All contractual acts have interrelationships, including the Consumer Contract Law which will be explained in this article.
For example, false representations and exaggerated expressions in real estate advertisements, unfair penalties, and cancellation fees will be judged based on the Consumer Contract Law.
Although the Building Lots and Buildings Transaction Business Law also stipulates specific clarification and obligations regarding contract terms, the Consumer Contract Law stipulates that unfair contract terms are invalid. This also stipulates contract cancellation, prohibition of unfair transactions, responsibility for and repair of defective properties, and prevention of unfair monetary claims from the perspective of consumer protection.
For this reason, we, real estate agents, need to be familiar with the Consumer Contract Act, as well as any amendments which may be made to it.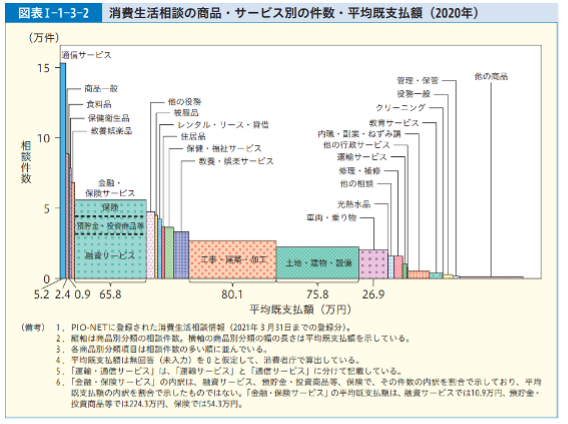 In the number of consultations registered with PIO-NET (National Consumer Affairs Information Network System) according to the above chart "2020 Consumer Affairs Agency Survey," you can see there are a reasonable number of cases of service for land, building, equipment, construction, construction and processing.
In light of these problems, it is inevitable for real estate agents to keep in mind the key points of the revised Consumer Contract Act.
In addition, it is important to remember the Special Consumer Court Procedures Law, as there is a possibility that a request for correction may be made not only by the parties concerned but also by a specific qualified consumer organization.
In this issue, we will explain these points of revision which we as real estate agents should definitely keep in mind.
The reason for the amendment correlates with lowering the age of adulthood
The revision is due in no small part to the lowering of the age of adulthood.
The lowering took effect on April 1, 2022, which means that legally, once a person reaches the age of 18, he or she is free to make contracts without being subject to parental authority.
However, 18-year-olds have just graduated (or are still in school) from high school.
Although they have access to a variety of information through the Internet, it is undeniable that they have far less "real life" experiences.
In addition, the number of cases where young people in particular easily can contract, and get into trouble has been increasing due to the recent trend of more impersonal contracting.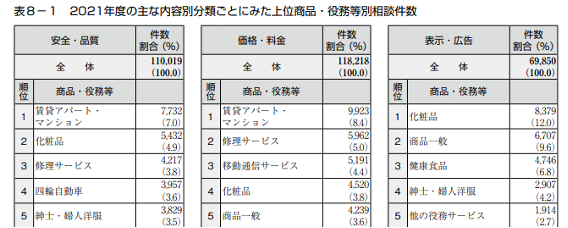 According to the Consumer Affairs Agency, the number of consumer consultations related to "telecommunication services" has been increasing recently.
There are few cases in which telecommunication services are directly related to real estate, and the younger the customer's age, the more likely they are to seek advice on mediation through telecommunication services, i.e., contractual acts using the Internet.
In particular, the number of consultations received from 20-29 year olds regarding rental apartment contracts is ranked at the top.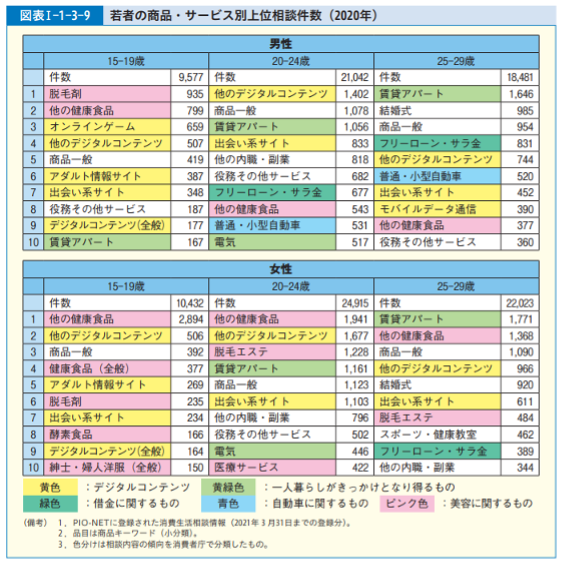 Against this background, the need for consumer protection has increased, which is one of the reasons for the revision.
Points of Amendment to the Consumer Contract Law
As explained in the introduction, the purpose of the Consumer Contract Law is to prevent unfavorable contracts due to the knowledge gap between consumers and businesses, and to protect consumers from such unfavorable contracts.
In the recent amendment, the right to rescind a contract (Article 4, Paragraph 3) was first added.
However, this does not mean any contract can be rescinded.
Specifically, the following cases are limited to those:
(1) when the solicitor accompanies the consumer to a place that is difficult to vacate without informing the consumer that he/she is soliciting
(2) when the solicitor uses intimidating words or actions to interfere with the consumer's communication for consultation
(3) when the solicitor changes the current condition of the agreement before signing the contract and makes it difficult to restore the original agreement.
Of these, (1) without informing the customer you are soliciting" is a typical example of a catch sale, therefore contact from a real estate agent is probably low.
The same applies to (3) of the object before signing a contract". The main act which falls under this category is the act of preventing contact for consultation by using intimidating words or actions as described in (2). In such cases, "intimidation" can be understood as words or actions that are not threatening, but cause anxiety.
For example, during a business meeting at an office, a customer who requested to consult with his parents or acquaintances about a purchase would be told, "What are you talking about? You don't need to consult your parents or acquaintances when you are purchasing real estate." If you tell them that the property will be sold while consulting with parents or peers, there is a high possibility this will fall under the category of "consulting parents and acquaintances".
In addition, it has been confirmed as a case of a buyer, the "real estate agent" went into the buyer's house by the door-to-door sales method. Stayed for a long period of time to force the sale of a property, and did not allow the buyer to consult with third party sources.
In addition, when setting out a schedule of compensation for damages in a real estate contract, whether for lease or sale, the notifiction period, including liability for non-compliance with the contract, and whether or not there is a right to claim a reduction in the price must be clearly set forth.
In the case of real estate, the Building Lots and Buildings Transaction Business Law provides for two types of provisions: a schedule of damages and a penalty. It is understood the schedule of damages can be provided separately in accordance with Article 420, Paragraph 1 of the Civil Code, and the penalty can be provided in accordance with Paragraph 3 of the same article.
This is in support, "the principle of freedom to contract," but the total amount of renumeration must not exceed two-tenths (20%) of the total price of the property.
The revised Consumer Contract Act newly establishes in Article 9, Paragraph 2 the obligation to provide consumers with a summary explanation on the basis of how the amount is calculated.
In addition to the provision of information necessary to exercise rights at the time of contract cancellation (Article 3, Paragraph 1, Item 4, etc. of the Consumer Contract Act), the provision of information comprehensively taking into account the consumer's knowledge, experience, age, and mental and physical condition at the time of solicitation (Article 3, Paragraph 1, Item 2 of the same Act), etc. are newly established as obligations.
Although these are currently obligatory, it is safe to assume that they have been newly established with a view to making them mandatory. It is a good idea to be prepared in advance before being panicked by further and future revisions.
What is the Special Law on Consumer Court Proceedings?
The Consumer Contract Act is also related to the "Act on Special Measures for Consumer Court Proceedings."
This is one of the "consumer collective litigation systems" under which "qualified consumer organizations" authorized by the Prime Minister can file lawsuits against business operators on behalf of consumers.
As of the end of April 2023, 23 organizations nationwide have been accredited, of which 4 organizations are designated as "Specified Qualified Consumer Organizations" which meet the new requirements for accreditation.
However, in light of the disparity in the quality, quantity, and negotiating power of information, as well as the time restraints, costs, and labor involved in lawsuits that are not worth the compensation in the event of a victory, special authority has been granted to qualified consumer organizations to prevent disadvantages caused by individual lawsuits. The idea is to prevent disadvantages caused by individual lawsuits by granting special authority to qualified consumer organizations.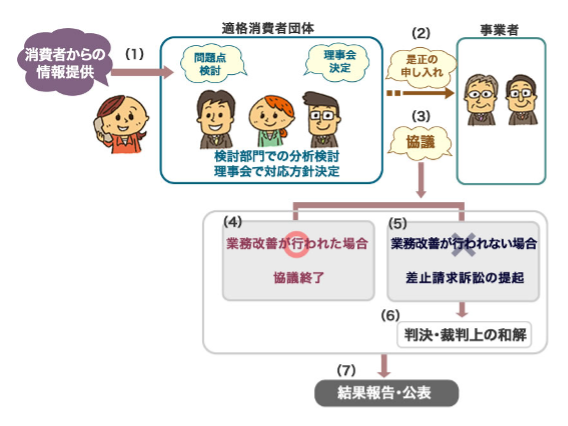 The consumer collective action system handles two types of claims: "injunction" and "recovery of damages." In the injunction claim, a request for correction of solicitation activities such as misrepresentation, provision of definite judgments, and non-disclosure of adverse facts is made, and if the consultation is unsuccessful, an injunction lawsuit can be filed.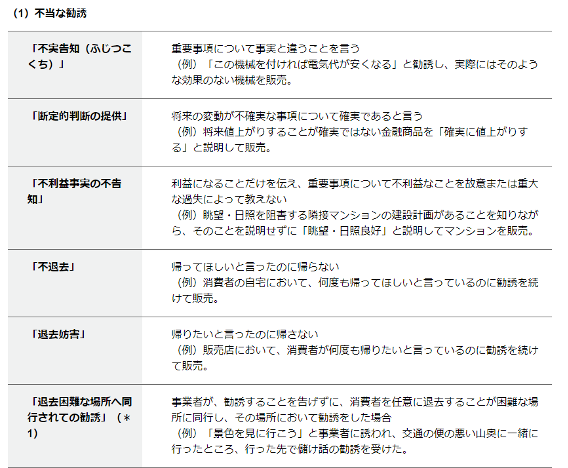 Unfair solicitation acts related to real estate would be as described in the above diagram.
Of these, misrepresentation and provision of definite judgments are a matter of course, and the National Consumer Affairs Center has received multiple consultations from elderly people regarding "unfair use of impaired judgment."
The Consumer Affairs Agency has issued a warning against unscrupulous remodeling companies which use energy conservation as a pretext, and against agencies who persistently pressure them to purchase their homes.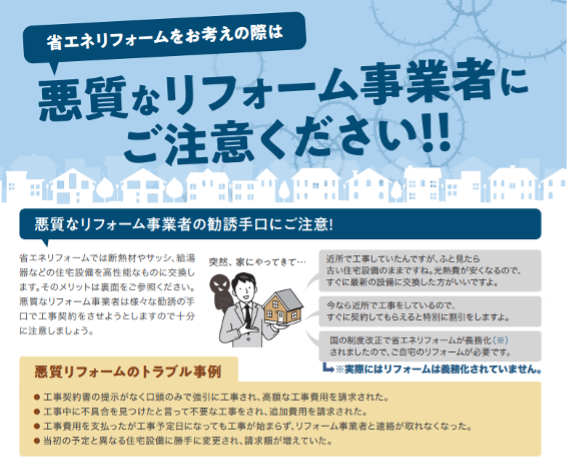 The most common cases are visits to the homes of elderly individuals to force them to sign contracts (including sales), in which the sales people who don't leave even after being asked several times to vacate (violation of the Non-Eviction Law), raising their voices and giving false information in a definitive manner (violation of the Consumer Contract Law), and also obstructing telephone calls to a third party for consultation.
These series of acts are not only violations of the Consumer Contract Act, but also fall under the Penal Code.
Even if a contract is concluded as a result of these acts, there is a possibility that a qualified consumer organization will file a complaint for correction afterwards, and in some cases, an injunction lawsuit may be filed.
Summary
Real estate agents are obligated to comply with not only the Consumer Contract Act, which was explained in this article, but also other relevant laws.
If we real estate agents comply with the Building Lots and Buildings Transaction Business Law, it is unlikely we will violate other laws, but this does not mean that we are perfect.
There are a myriad of laws which are often tested on the Real Estate Agent exam, such as the Civil Code, Building Standards Law, and Urban Planning Law, as well as Registration Law, the Personal Information Protection Law, and the Criminal Code.
In a survey of the qualities consumers look for in a real estate salesperson, "a wealth of knowledge and experience" as well as good manners and speed were cited.
It is the responsibility of real estate agents to prevent the harmful effects of "knowledge gaps."
We should deepen our understanding of the revised Consumer Contract Act to ensure problem and stress-free transactions.
For additional information or any questions please contact us here
Email: info@remax-apex.com