Last week we posted the Real Estate Economic Institute's 2021 forecast for newly developed condominiums in the Kansai (Osaka) region. The Real Estate Economic Institute expects an increase in supply for 2021, which got us thinking what kind of supply will be and is already out in the market.
For this week's post, we decided to research which projects will complete construction in 2021 with move-in also happening in 2021.
Just to stay consilient with the 2021 theme, projects which were completed at the end of 2020 with move-ins happening this month (January) and next month (February) will be excluded.
Also, we will highlight a few projects which has caught our eye, taking into factor location, value, and developer as a few variables.
Total project planned for completion and move-in for 2021:
Osaka City: 32 projects
Osaka Prefecture (suburbs): 32
Osaka Prefecture (total): 64
Park Homes Senri-Chuo The Residence Parkside
The evolving city of Senri-Chuo.
In this city where various development plans and redevelopments are underway for the future, a project pursuing the ideal of living is now underway. This is Senri New Town's first residential / commercial / public integrated project. A total of 333 residences which will include 2 newly built condominium complexes. A commercial complex will be created along with the housing, and a public facility will be created by the city. The sophistication and culture that the residential city Senri-Chuo has nurtured over a long period of time, and the rich nature that surrounds the inhabitants.
In order to take advantage of the unique charm of this city and further evolve its potential, the developer will combine various urban functions and create a new community base. All to be the ideal home for a new era.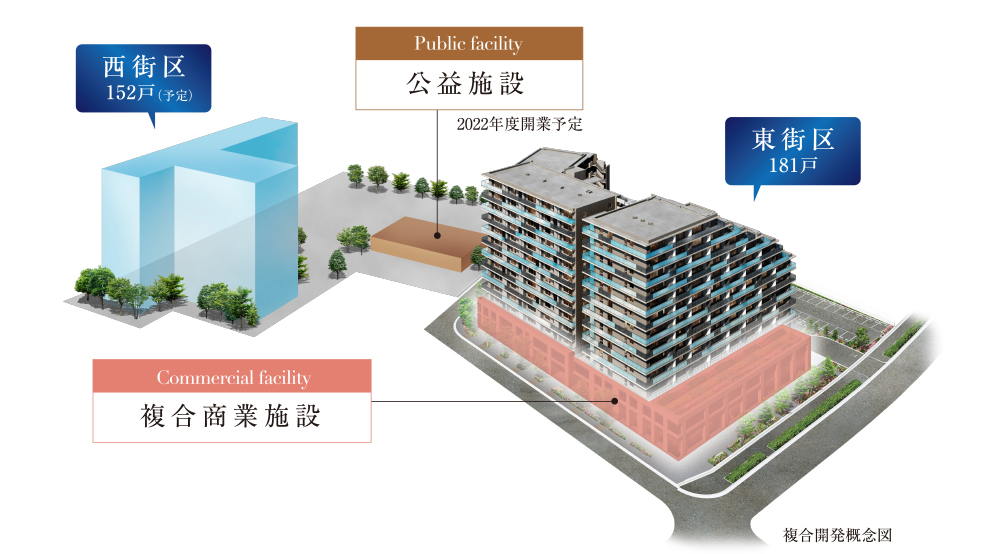 Project Details
Price: ¥39,000,000 ~ ¥73,000,000
Address: (planned) 3-1311 Shin Senri Higashi-machi, Toyonaka, Osaka
Access: 12 minute walk to Senri-Chuo Station
Floor Plans: 3LDK ~ 4LDK+N (1 to 4 bedrooms)
Floor Area: 66.03m2~100m2
Total Units: 181 units
Completion: (planned) end February 2021
Move-in: (planned) end March 2021
Developer: Mitsui Real Estate Residential
Pressance Loger Shin Umeda
The future of Umeda is our future.
Where is the most exciting place to live in Osaka in the future? The answer was in Shin Umeda. While being near the development stage of the Umekita Phase 2 Area, which will accelerate the evolution to the future for the "Shin Umeda City" area, where you can enjoy the ease of daily living in a well-balanced manner. It's the newest place in Osaka, comfortable for all generations. The best city for us who want to start a new future. Pressance Loger Shin Umeda, a new residence and the dawn of a new life.
As a city center that runs north-south through the center of Osaka From Shin-Osaka, connecting Umeda, Nakanoshima and Namba, smoother access to Kansai International Airport. Area on the north side of JR Osaka Station, commonly known as-Umeda Kita Yard Osaka station is scheduled to open in the basement of the project. Connected from JR "Namba" station and Nankai Shin-Imamiya station, Naniwasuji Line is scheduled to open in full scale in 2031.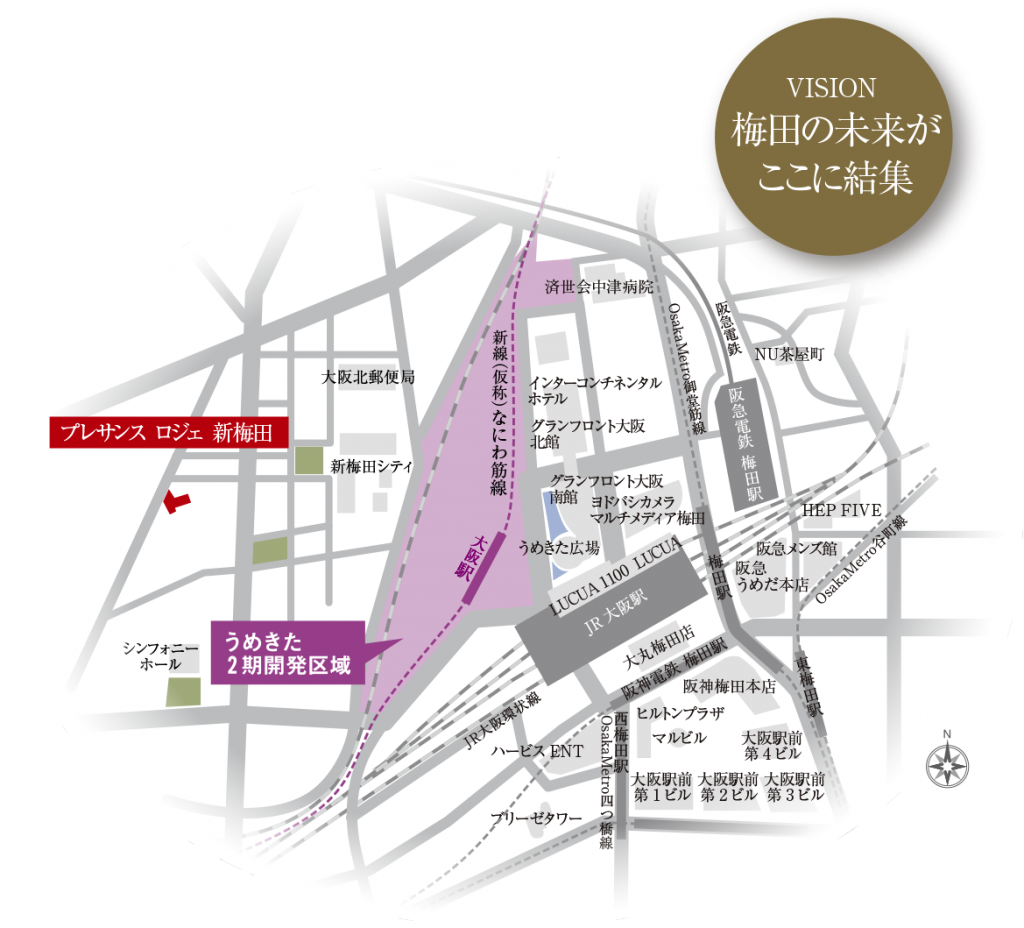 Project Details
Price: ¥32,200,000 ~ ¥72,800,000
Address: (planned) 2-9-11 Oyodonaka, Kita-ku, Osaka
Access: 18 minute walk to Osaka Station・Osaka Umeda Stations, 12-minute walk to JR Fukushima Station
Floor Plans: 1DK ~ 3LDK (1 to 3 bedrooms)
Floor Area: 34.35m2~80.15m2
Total Units: 84 units
Completion: (planned) early February 2021
Move-in: (planned) early April 2021
Developer: Pressance Corporation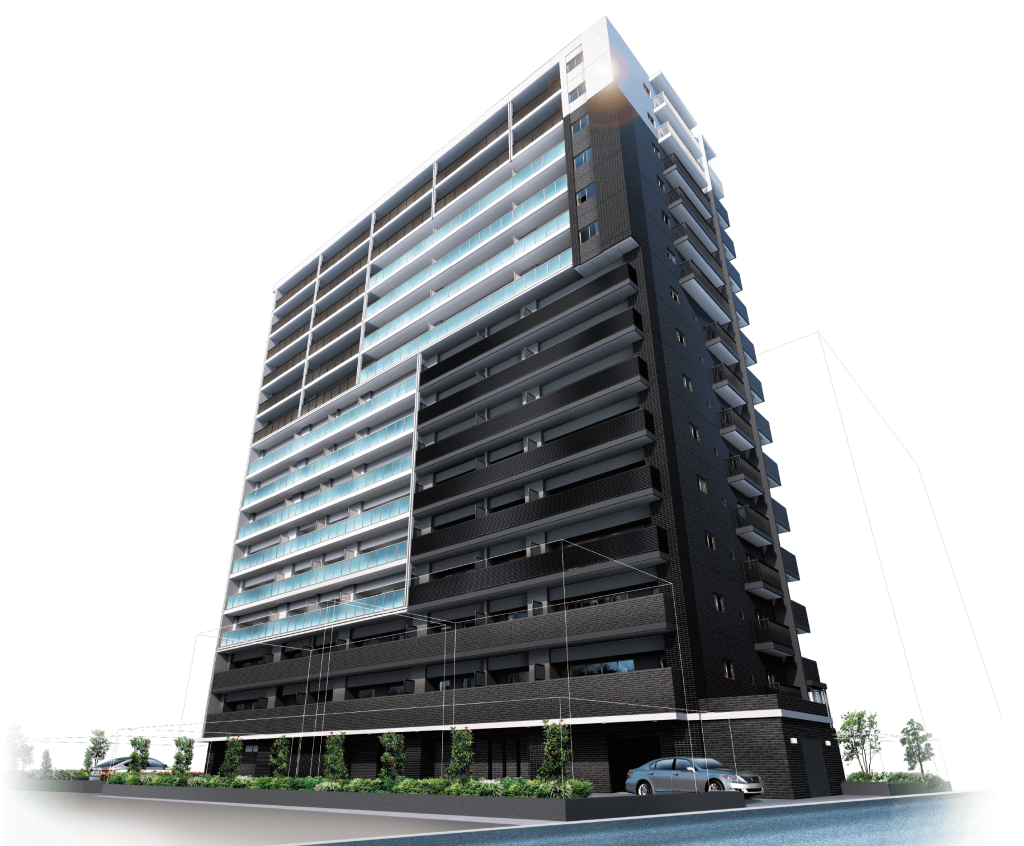 Cielia Osaka Uemachidai Park Tower
Towering on the Highest Hill in Osaka
Do not allow compromises in everything, break out of the existing category, and re-knit the city center tower residence consideration. The place we found was the highest hill in Osaka city. Located in the former Namba Palace / Miyagi, it is also a part of the Uemachi Plateau called Osaka Castle / Sannomaruchi. At the front of Naniwanomiyato Park, at the address overlooking Osaka Castle to the north, The collective mansion project, which boasts a quality of life, has started.
The "Uemachi Plateau" has many historical sites, including the national historic site "Namba Palace Ruins." Uemachi Plateau is the only hill in Osaka City that stretches about 13km south of Osaka Castle. Its origins date back to ancient times. From the Yayoi period to the Kofun period, the Uemachi plateau was a cape that "protruded into the sea", which was very different from the current terrain. In ancient times, it was called "Naniwa no Tsu" and prospered as a key point of trade with other countries. Around the 7th century, a city called Namba Palace was built with the renovation of the famous Taika Reform.
Cielia Osaka Uemachidai Park Tower located on the Uemachi Plateau, which has formed a hill since ancient times, with high altitude areas are around Osaka Castle and the Uemachi-suji area. The construction site of Cielia Osaka Uemachidai Park Tower is on the hilltop area at about an altitude about 22.1m.

Project Details
Price: ¥59,800,000 ~ ¥259,900,000
Address: (planned) 1-18-9 Uemachi, Chuo-ku, Osaka
Access: 6 minute walk to Tanimachi 4-chome Station, 7-minute walk to Tanimachi 6-chome Station
Floor Plans: 1LDK ~ 3LDK (1 to 3 bedrooms)
Floor Area: 55.61m2~154.68m2
Total Units: 112 units
Completion: (planned) September 2021
Move-in: (planned) early October 2021
Developer: Kansai Electric Real Estate Development
The High Horie
The "VALUE" is High
Since the 2000s
Lifestyles are becoming more and more diverse. It can no longer be classified by old-fashioned standards. The barrier between "work" and "private" is now extremely low, let's jump over that boundary. The existence of people who will be the forerunners of the near future is no longer a rare sight.
If your way of life changes, so will your home. "Work", "live", "play", "lend," flexibility for various usages. A high-quality space full of comfort. THE HIGH HORIE is a gift for those who want to draw their own life. It will be the new standard for compact residences.
With higher than usually ceilings at approximately 3.55m, The idea of capturing the size of a dwelling unit by "volume" and designing it three-dimensionally creates an unprecedented rich living space. THE HIGH proposes a new expansion of lifestyle by "stretching the house vertically".
Project Details
Price: ¥29,400,000 ~ ¥64,500,000
Address: (planned) 3-57-3 Kita Horie, Nishi-ku, Osaka
Access: 1 minute walk to Nishi Nagahori Station
Floor Plans: Studio ~ 2LDK+WIC (2 bedrooms)
Floor Area: 30.18m2~60.89m2
Total Units: 141 units
Completion: (planned) late January 2021
Move-in: (planned) late February 2021
Developer: Keihan Real Estate
Cielia Sakai Higashi Oshoji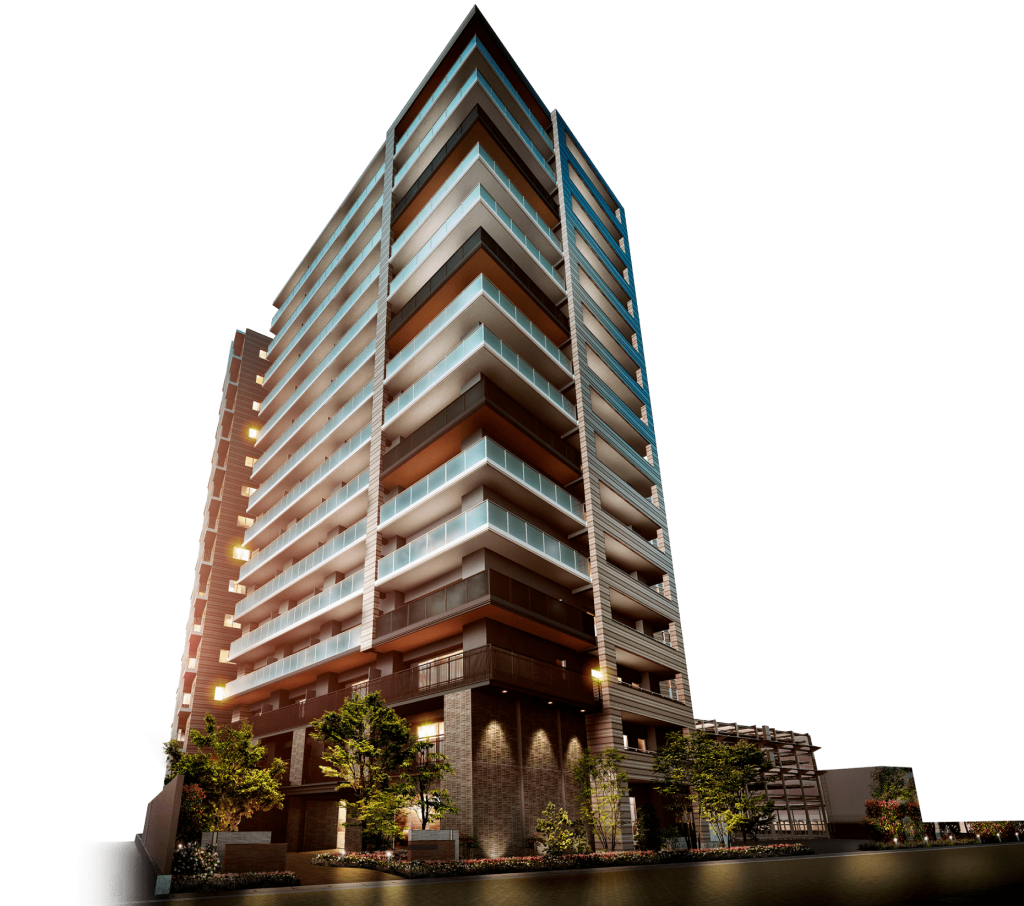 Along Sakai's Symbol Road "Oshoji-suji"
A quiet appearance centered on the Okoji line, A living environment where the greenery of the park brings moisture to the four seasons. A dual city residence that connects the two Sakai. 
In the past and currently, Sakai prospers in trade. The center of an autonomous city that once prospered as a base for Nanban trade. Ichinomachi was nurtured by the enterprising temperament of merchants.The large alley that extends east from Sakai Port, which was the base of Nanban trade, Prospering as a key point of logistics and information where new things and things come and go, the border forms its own autonomous city.Ichinomachi prospered as its center. Unique technology and culture The unique technology and culture cultivated in trade and commerce created Japan's first product and spread throughout the country with the name of Sakai.
Project Details
Price: ¥29,980,000 ~ ¥53,880,000
Address: (planned) 4-8 Ichino-macho, Sakai, Osaka
Access: 10 minute walk to Sakai Higashi Station, 13 minute walk to Sakai Station, 5 minute walk to Oshoji Station
Floor Plans: 1LDK+F ~ 4LDK (1 to 4 bedrooms)
Floor Area: 57.50m2~80.54m2
Total Units: 188 units
Completion: (planned) late April 2021
Move-in: (planned) late May 2021
Developer: Kansai Electric Real Estate Development
Granted, these are only 5 of the total 64 projects in Osaka Prefecture.
If you have any questions on different projects, projects in different cities and or areas please feel free to contact us below.
For additional information please contact us here
Email: info@remax-apex.com