Costs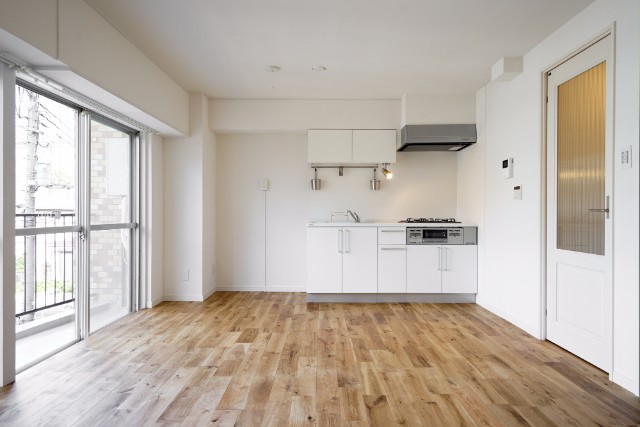 Now renting an apartment is not the easiest task to do in the world for expats. Trust me, I had to go through this colorful process myself. Even though I am able to speak Japanese, it still was a challenge. When I first moved to Osaka, I was capable of speaking Japanese but not on a level where you can rent an apartment on your own.
I assume most of you have a bank account here in Japan. That was such a fun process!
Rental contracts run usually for two year terms (long term rentals). Renting directly from the owner is quite rare. The owners of said buildings have property management companies handle getting tenants for their buildings. For example, Apamanshop has many offices, but they also manage thousands of listings throughout Japan. As do other real estate agencies such as Able. Another case is where a real estate company like Pressance (the spelling is wrong but that is how they spell their company name) or Daiwa constructs their own apartment complexes, then they manage their units within the company. I currently live in a Daiwa "mansion" managed by Daiwa. If you're living in Japan, and let's say you are walking around your city or town and you see a sign with this written on it "テナント募集中" or "入居募集中," the phone number written on the sign is for the managing company.
Japanese
Having strong command of the Japanese language will make your renting process go much smoother. Most but not all real estate agents do not speak English (or your mother tongue). Some agents will not tend to clients who do not speak Japanese. I was asked If I spoke Japanese went I went to rent my apartment.
Everything will be in Japanese! From the questions, the listing pages/documents (資料), the contract, the explanation of the contract, etc. There are ways around the language issue such as using a English listing website (tip: most portal sites with English listings have the same listings on other sites). Bringing along a friend who speaks Japanese will definitely help. There are services who cater to expats as well. Another option is to contact me! A little self promotion won't hurt anyone, right?
After signing the contract to move into your new apartment, the property manager or landlord will most likely not speak English. Setting up your utilities such as electric, water, gas, internet, etc. will be in Japanese. Getting your internet set up is a fun process, but that is another story for another time.
For information of my services click here.
Move-in Costs
The cost of moving in Japan is not cheap!
Here is a quick simulation of how much it would cost to move in Japan (Osaka).
I used a vacant unit in my building as a base for my simulation:
Move-in-date: The first of the month
Rent for move (家賃): ¥79,000
Deposit(敷金): none
Key Money(礼金): ¥100,000
Security Deposit(保証金): none
Management fee (管理費・共益費): ¥6,000 this amount is added to the monthly rent.
Guarantor company's fee (保証会社加入料): none
Fire insurance (火災保険料): fixed within monthly rent
Of course the upfront costs will vary depending on the area and the owner/landlord. There have been quotes for upfront move in costs between 3.5 – 7 times your monthly rent. This would all depend on if the landlord charges deposits, key money, and whether or not your agent charges a commission .
Here is another simulation:
Move-in-date: middle of the month (15th)
Two month's rent up front (家賃): ¥81,000 (one month) + ¥44,419 (17 days) = ¥125,419
Deposit(敷金): none
Key Money(礼金): none
Security Deposit(保証金): none
Management fee (管理費・共益費): ¥9,000 this amount is added to the monthly rent.
Guarantor company's fee (保証会社加入料): with guarantor, 50% of monthly expenses = ¥45,000.
Without a guarantor: Using the services of a guarantor company 100% of monthly expenses = ¥90,000.
Fire insurance (火災保険料): Between ¥15,000 and ¥25,000 for 2 years.
Other fees (その他): ¥545
Bank transfer fee (口座振替手数料)
If you're already living in Japan, then you will also have to factor in the fees the moving company will charge, a rough estimate from ¥40,000. I have heard prices exceeding ¥200,000 for moving, which I think is ridiculous. If your Japanese is good enough, you can always negotiate with the moving company. As a word of advice, I would negotiate once they come to your place to pack up your belongings prior to paying.
Part 2 will cover the application process, for example what documents you will need as well as the guarantor.