August 27, 2018
RE/MAX Asia Pacific Convention 2018
Seoul, Korea

The "debut" of RE/MAX APEX on the global and even the local scale. During this time we were busy getting ready to open our office in October.

We were given the opportunity to give the attendees, the RE/MAX affiliates in the Asia Pacific Region, as well as the local Korean investors who were in attendance, a quick market analysis on the real estate market in Osaka. Our presentation also included investment trends such as short term rentals which were the talk of the summer once the government of Japan officially made short term rentals (Airbnb types) legal.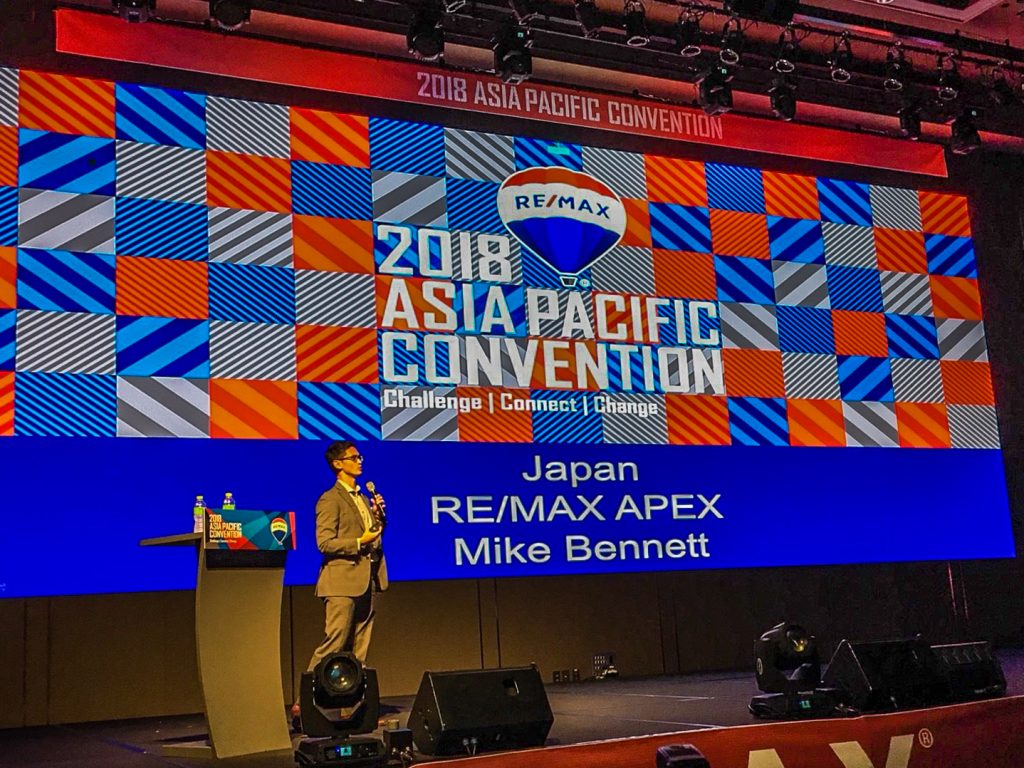 October 12, 2018
RE/MAX APEX Opening Ceremony
Osaka, Japan

On this day we RE/MAX APEX held our opening ceremony for our office. We officially started business on October 1, 2018 but the feeling of starting something new officially started after our ceremony. We had over 30 people in attendance, some are not pictured below, family, friends, and of course our RE/MAX family here in Osaka. We can not express our gratitude in words how much it meant to us that these individuals came to celebrate the "official" opening of our office.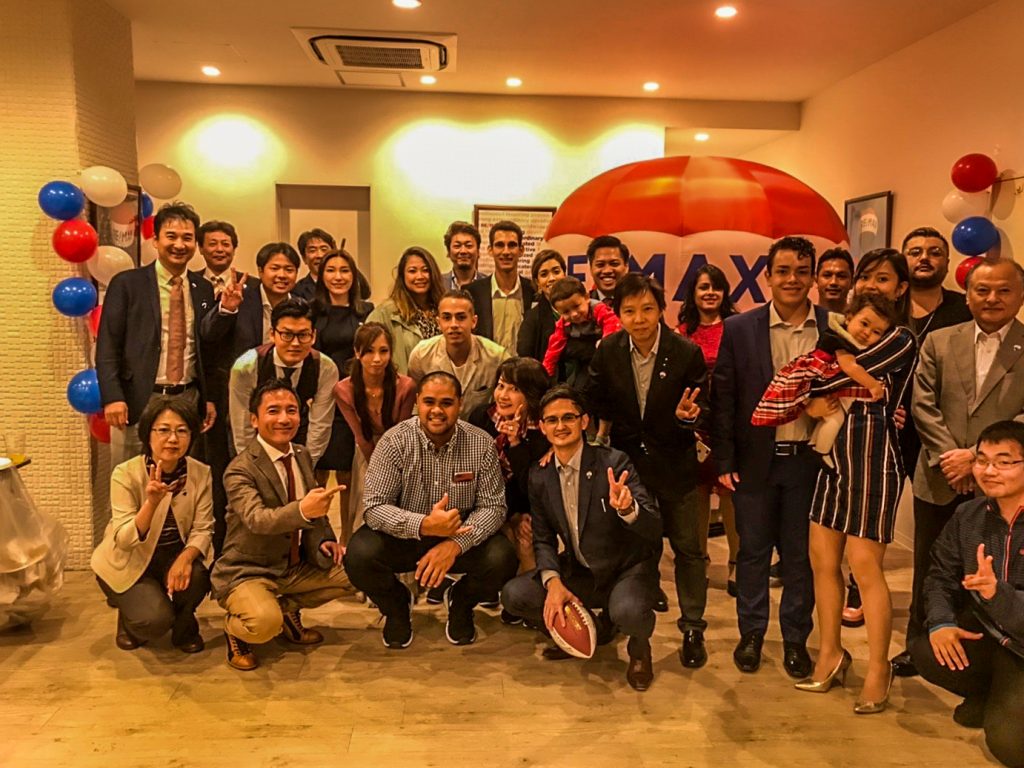 November 19, 2019
Educational Seminar for Korean Investors
Seoul, Korea

RE/MAX Asia Pacific Convention 2018 allowed for us to network with other brokerages and agents around the Asia Pacific area and others from around the world who made the trip to Seoul, Korea. We were able to connect with then RE/MAX agent and now Broker Owner of RE/MAX Central in Daejeon, Kyongjoon Kim (Kei). We held a joint educational seminar on the real estate market specifically in Osaka. Since most of the attendees are private or institutional investors, we focused our educational seminar on the different types of investment opportunities in Osaka, from residential investments, commercial and retail investments, different taxes and taxation breakdowns, and a simple guideline to the process of establishing a corporation in Japan. There were a total of 12 in attendance, where 4 have already invested in Japan or have made the trip to Japan to start the process.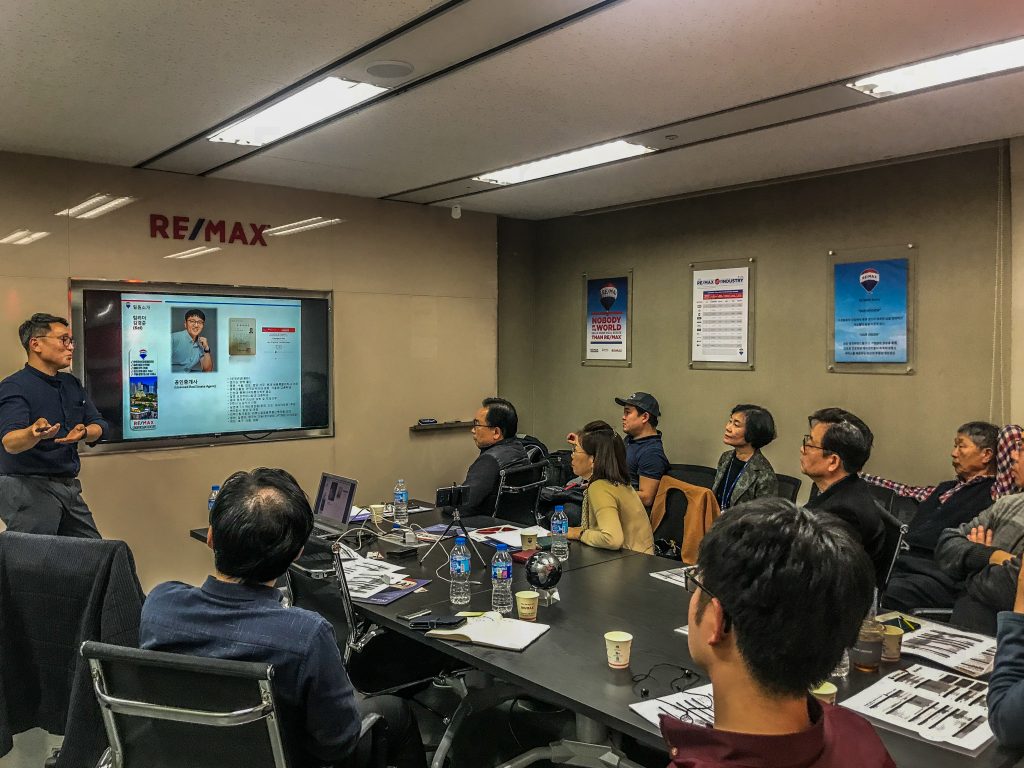 December 9, 2018
RE/MAX JAPAN Convention 2018
Tokyo, Japan

The very first RE/MAX JAPAN Convention was held on December 9th 2018 in Tokyo Japan. RE/MAX Affiliates from all over Japan gathered to celebrate our hardwork and accomplishments for the year 2018.
Not only was it a local/national event, we also had guest speakers from Cairns, Queesnland, Australia (Tony Williamson), Ewa Beach, Hawaii, USA (Ray Prosek), and Los Angeles, California, USA (Hiroko Nishikawa-Naumann). It was a day full of fun which allowed for our RE/MAX Affiliates to meet new people and or catch up with those they have not seen in a while. The convention also held an awards ceremony where one of our agents received the Most Impressive Agent Award.
Since it was the first convention last year, the second convention, which will be held in February of 2020, will be even better. We look forward to the next convention to see how far we have grown in one year.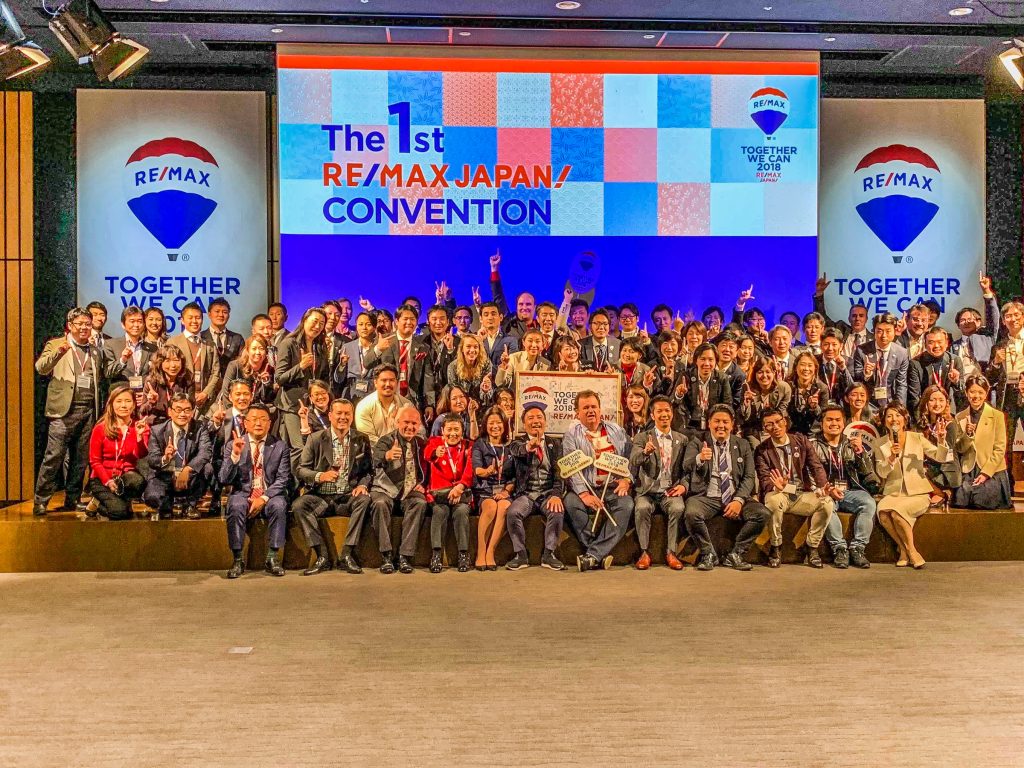 February 1, 2019
Educational Seminar for Korean Investors
Osaka, Japan

This was a follow-up to the educational seminar we held in November of 2018. For this educational seminar, we had the opportunity to collaborate with a Korean Economic Newspaper and their "Money School" which is operated by Dr. Hyung Seok Kim of Sungkyul University.

Again, this educational seminar consisted of information pertaining to real estate investments in both residential, commercial, and retail. Basic information on Osaka's economy and the local's outlook on the economy.
We also invited a local developer who has been extremely helpful to us in the past. They gave a quick 30 minute presentation on their outlook on real estate investment trends for the future. Of course they spoke upon a few projects they have in the works as well as a large scale hotel project in the future (the hotel project is now a current project). The attendees were able to listen and see two different perspectives, one from a real estate agency and another from the real estate developer's perspective. We believe they were able to get a well rounded assessment of the current and future real estate outlook in Osaka.

There were a total of 13 in attendance from Korea. After the educational seminar we went to a gallery for a high rise condominium「Proud Tower Kitahama」set to be completed in the Spring of 2020.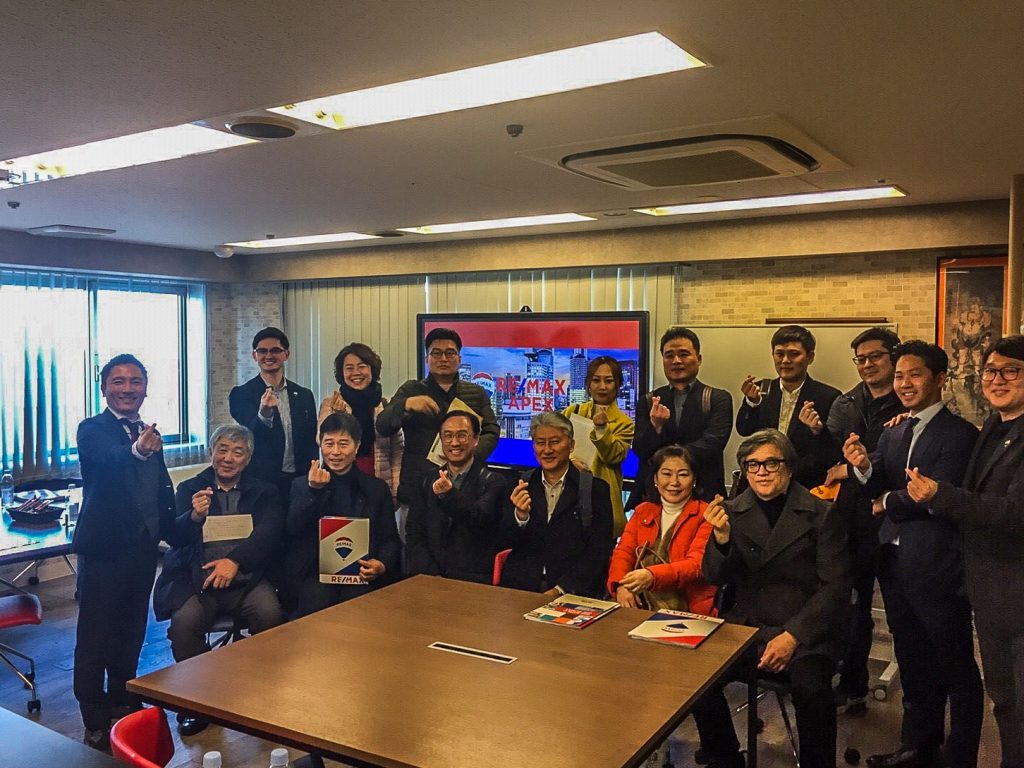 February 25 – 28, 2019
RE/MAX R4 Convention 2019
Las Vegas, Nevada

Not too many things to say about R4 except for WOW! The number of RE/MAX Affiliates gathering from all over the world, as well as the energy the entire event brought was amazing. The biggest take away for us being a new brokerage affiliated with RE/MAX was the opportunity to speak with other offices outside of our region (Asia), and to learn from their experiences. Since RE/MAX's business model differs from the traditional real estate brokerages seen around the world (especially in Japan), it was interesting to listen to the different processes on how the different offices became successful.

Lastly, it was extremely fun spending time with the RE/MAX JAPAN affiliates outside of Japan. A total of 19 affiliates made the trip over the Pacific Ocean to attend RE/MAX R4 2019, Together We Can!
April 4, 2019
Cherry Blossoms (Hanami) BBQ
Osaka, Japan

Traditionally and culturally, having a picnic or a bbq during the Cherry Blossoms Season is the norm in Japan. We (RE/MAX APEX) decided to organize an event for all of the RE/MAX affiliates in Osaka including their friends and families to gather for a bbq. It so happened to occur during the cherry blossoms season. We believe everyone had a great time at the bbq even though it was still a bit chilly.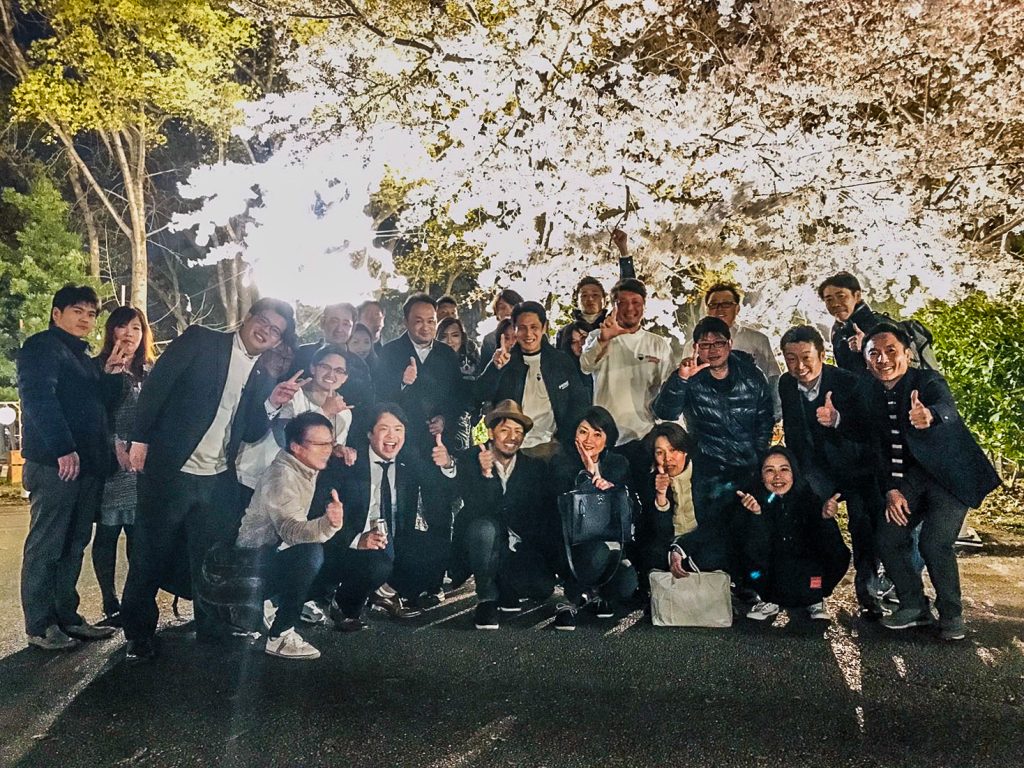 May 2, 2019
Meeting with RE/MAX Aloha Homes
Ewa Beach, Hawaii

Broker Owner of RE/MAX Aloha Homes Ray Prosek was kind enough to be a guest speaker at our convention in December 2018. Since his team consists of a Japanese speaker (Michelle McIntyre), we figured we had to give his office a visit while in Hawaii. They welcomed us like family, and had the opportunity to sit with Ray to speak upon different aspects in the real estate industry in Hawaii as well as in Japan. Since Ray is an extremely buy man, he was kind enough to allow us to sit-in on a couple conference calls with his clients. Out of the many talking points, the sit-in on the conference call, Ray drills home the concept of "customer service" with his choice of words but most importantly his actions. We hope to do business with Ray and his team at RE/MAX Aloha Homes in the near future.

Mahalo!
June 29, 2019
Networking Event for current University Students
Osaka, Japan

This past June, RE/MAX APEX and a couple other RE/MAX affiliated offices had the opportunity to attend a networking event for University Students. The event's purpose was to give university students the opportunity to speak with different individuals in different industries. The attendees from the different companies ranged from CEOs to Department Heads to HR employees. Job hunting as a university student during his or her 3rd year is taken extremely seriously in Japan. This event gave these students the opportunity to speak with different individuals in different industries prior to their job hunting going into full-swing.

Why did we attend? We of course were there to speak with the university students directly, but we were also given the opportunity to give a quick presentation on RE/MAX. RE/MAX APEX was the representative for RE/MAX JAPAN as a whole and gave a quick 15 minute presentation on WHY RE/MAX.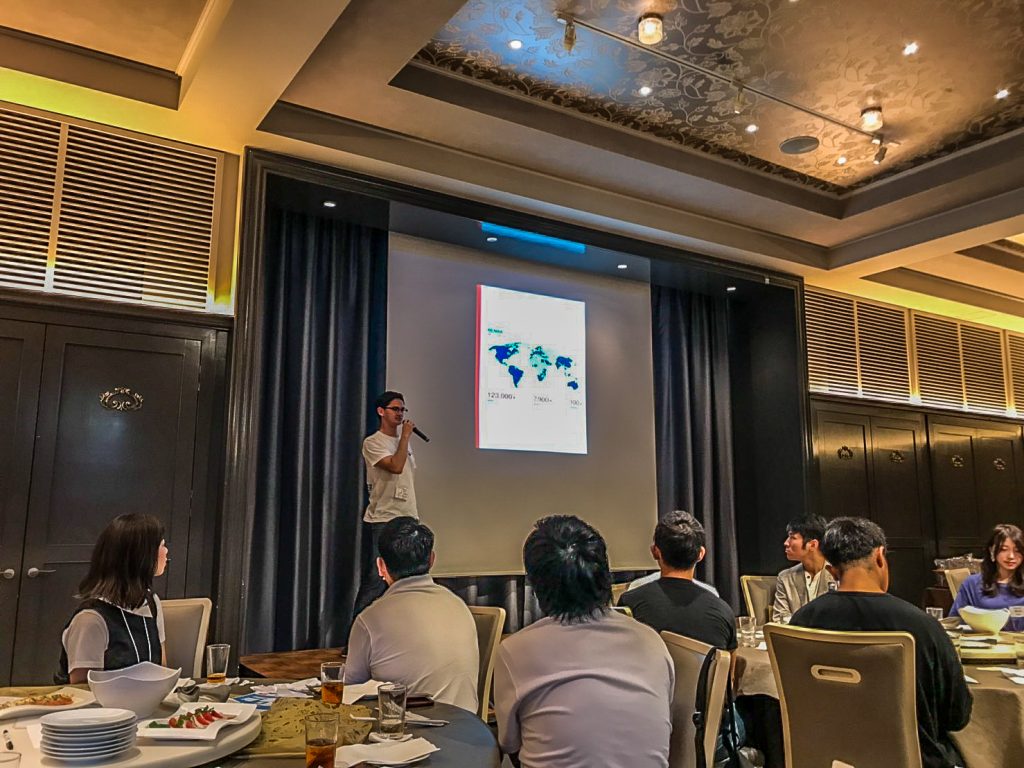 September 2 – 4, 2019
Internation Real Estate Conference 2019
Tokyo, Japan

The International Real Estate Conference (IREC) 2019 was an educational and networking event for real estate professionals from around the world. Attendees from all fields of the real estate industry included development, distribution, and investments were in attendance to discuss and share his or her opinions on the current state and future of the real estate market in his or her respective countries. There were exhibition booths where RE/MAX JAPAN made sure they made their presence be known during the international conference. Our role during this conference was to simply attend and network with other real estate professionals from around the world. In attendance, realtors from USA, Canada, Mexico, Thailand, Mongolia, Indonesia, Malaysia, Philippines, and Australia just to name a few. The NAR (National Real Estate Association, USA) was also one of the exhibitors and sponsors of the conference.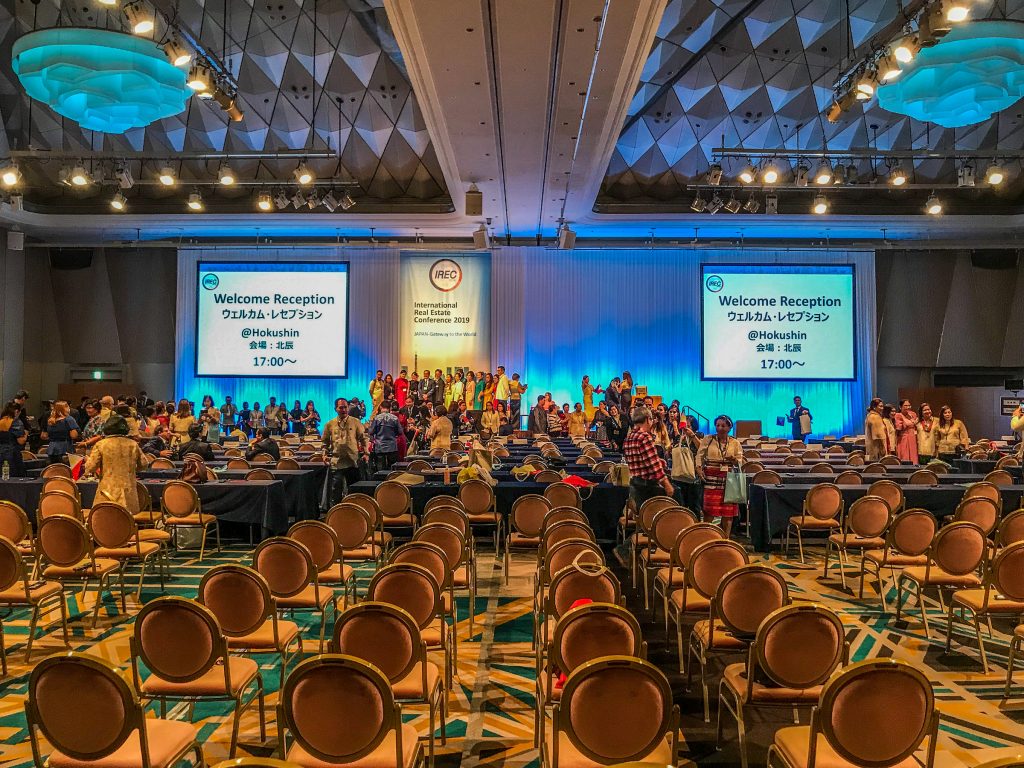 September 21 – 22, 2019
APP World Tour 2019 Osaka SUP Open
Osaka, Japan

RE/MAX was one of the main sponsors for this athletic event. Since the event was held in Nakanoshima Park, RE/MAX APEX assisted RE/MAX JAPAN with hosting a booth and tent for attendees. The Broker Owner of RE/MAX Lifestyle, Dano Sayles made his way to Osaka from Maui to attend the event as well. Dano is a dear friend to us here at RE/MAX APEX, always providing positive words and structural advice whenever we get the opportunity to get together.

As a whole, the event was a huge success. Hosting a water sport in the middle of a huge city was a sight to see. The mix of athletics and music made the event extremely festive. Of course, there were food vendors selling festival foods as well.

We were fortunate the weather held up for the two day event considering there was a typhoon on the southwestern coast of Japan.
We hope APP decides to have Osaka host one of their locations again for their world tour next year, 2020.
We hope our second year continues to bring us new opportunities to grow personally and professionally. Currently we have three agents, and we hope to grow a bit more in our second year. This second year should be another interesting year considering the new Emperor will have a full year as Japan's Emperor. The big event next summer will be the 2020 Tokyo Olympics. Should be interesting to see what transpires leading up to the Olympics and of course what follows.

Thank you all who were involved with RE/MAX APEX directly and indirectly for our first year. We hope to have your continued support moving forward.